Building Features
Wake Forest's 44,000 square foot town hall is marked by several distinctive features both inside and out. These elements include a customer information desk, the town seal and town history timeline incorporated in the polished lobby floor, the rotunda, board chambers, and Centennial Plaza - just to name a few.

Customer Information Desk
Located in the first floor lobby, the Customer Information Desk is open Monday through Friday from 8 a.m. to 5 p.m. A Customer Service Representative is stationed at the desk at all times and is available to help residents and customers navigate town hall, provide information about town programs and services, direct payments, and offer other useful assistance.

Town Seal & Timeline of Wake Forest History
The polished lobby floor prominently features the town seal, along with a timeline of Wake Forest history. Designed to mirror the rings of a crosscut tree, the timeline highlights several momentous dates in the town's 100-year history.

Spiral Staircase
A spiral staircase including treads constructed of recycled wood offers unique access from the lobby to the ground level and the second floor board chambers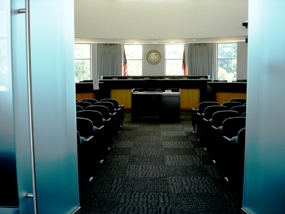 Rotunda
The Rotunda design was developed to maximize natural lighting and enhance the architectural quality of this incredible public space. Envisioned to provide adequate room for planning board and board of commissioners meetings, the Rotunda will illuminate the night sky signaling local residents that public meetings are in session.

Board Chambers
The board chambers incorporate various features designed to maximize public access and participation, facilitate use of modern audio-visual capabilities, and allow Board members and Town staff to conduct business efficiently. A sloped floor enhances visibility for the audience, while maintaining special seating areas for members of the media. The locations of the dais and speaker's podium have been positioned for optimum sight lines, circulation, and ease of use.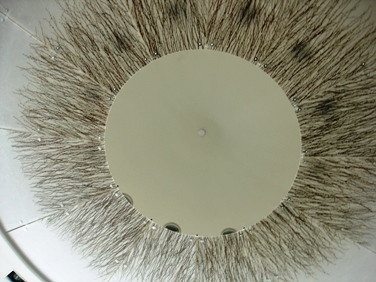 Tree Chandelier
As you stand in the center of the board chambers, look upward to see a spectacular "tree" chandelier.

Natural Lighting
Windows are positioned throughout the facility to take advantage of daylighting. As a result, less energy will be used to light the interior and incredible views of downtown Wake Forest are visible throughout the building.
Reclaimed Wood Floors
The flooring on the ground level of town hall was salvaged from a barn.

Centennial Plaza
Located along South Brooks Street and named in honor of Wake Forest's 2009 Centennial Celebration, Centennial Plaza serves as the gateway to the new town hall. Among its many features are the engraved brick pavers which have been purchased by local residents, businesses, and civic groups to honor a loved one or commemorate a special event. Offering an attractive outdoor location for a variety of community events, Centennial Plaza was the site of the town hall grand opening ceremony on Friday, Sept. 10. A time capsule is buried adjacent to the plaza and is scheduled to be opened in the year 2059.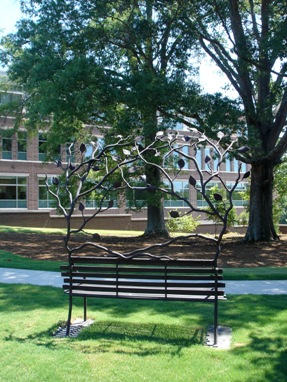 Oak Tree Save Area
Plans to construct a parking lot adjacent to town hall were scrapped in order to save two large oak trees.

Public Art Bench
Fourteen former Wake Forest Citizens of the Year donated a unique piece of art that's been positioned in the oak tree save area offering area residents a special place to rest, reflect, and enjoy the beauty of downtown Wake Forest.

Convenient Parking
On-site parking is available in the town hall parking lot accessible from South Brooks Street and along designated parking spaces along South Brooks and Taylor Streets.