Wake Forest Cares Holiday Kickoff
Wake Forest Cares Holiday Kickoff Highlights

Wake Forest Cares Holiday Kickoff
Saturday, Nov. 13 ~ 1-7 pm
Downtown Wake Forest
Help us ring in the holiday season and launch our Holiday Donation Drive during the "Wake Forest Cares Holiday Kick-Off" on Saturday, Nov. 13, from 1-7 p.m. in downtown Wake Forest!
Open and free to the public, our WFC Holiday Kickoff will offer a slew of family-friendly activities, including skating on an artificial ice skating rink. You will also have the chance to learn more about Wake Forest Cares and how you can make a difference in our community.

From 1-4 p.m., be sure to check out the award-winning ice carvers who will be competing with dueling chainsaws to carve our favorite holiday symbols in record time. When they aren't competing in an ice battle, they'll be working on a holiday-themed ice sculpture. Also, be sure to get your photo taken inside our Wake Forest Cares ice photo frame.

The afternoon hours will also feature the Ice Princess Stilt-Walker, Jack Frost Juggler and other street performers.
Our celebration will continue from 4-7 p.m. with a high-energy concert featuring the ACE Party Band! Playing hits from Top 40, Rock, R&B, Beach and Motown, this talented and versatile group of musicians is sure to have you on your feet dancing to your favorite tunes!
The day's festivities will conclude with a dazzling 10-minute Holiday Laser Light Show.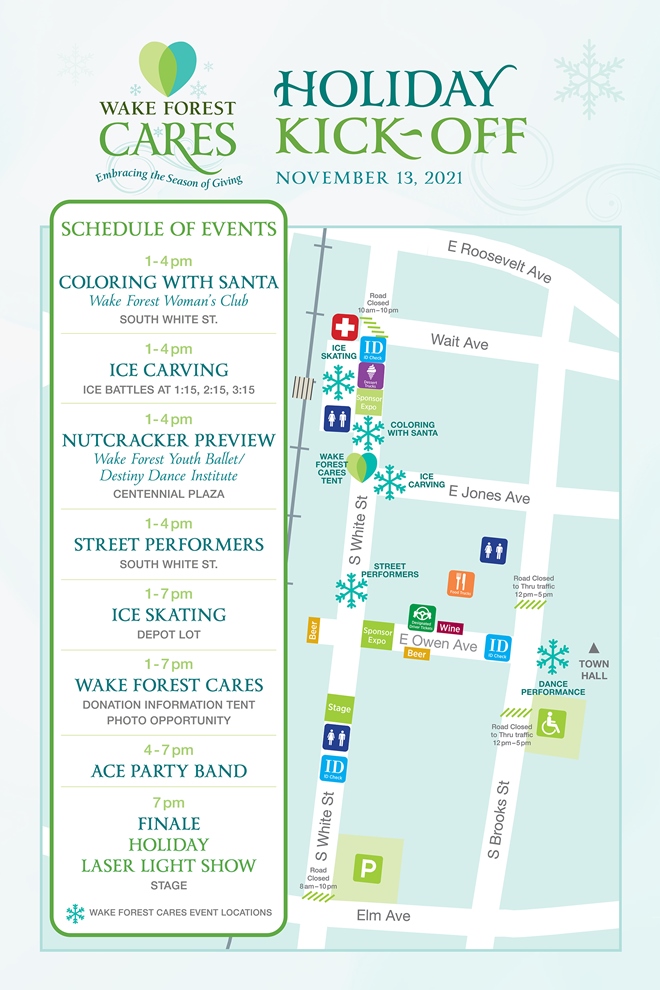 Ice Skating
Our WFC Holiday Kickoff will offer ice skating on an artificial ice rink from 1-7 p.m. in the Depot Parking Lot. The rink can accommodate up to 90 people, and spots are available on a first-come, first-served basis.
Know Before You Go
Our ice skating is free and open to the public. Spots are available on a first come, first-served basis.

Skates will be provided in sizes ranging from Children's 8 to Adult 13. If you have your own ice skates, feel free to bring them!

We want to offer ice skating opportunities to as many people as possible, so please limit your time on the ice to 20 minutes or less.

All skaters will be required to sign a waiver. Anyone under the age of 18 must have a parent present to sign on their behalf.

All skaters ages 13 and under must have a parent present in the Depot Parking Lot at all times.

Anyone skating in a manner that endangers or interferes with other skaters will be asked to leave the skating rink immediately.

Food & Beverages
Food and refreshments will be available for purchase at several downtown restaurants, while the following food and dessert trucks will be onsite throughout the afternoon and early evening: Bulkogi Korean BBQ, Charlie's Kabobs, Cousins Maine Lobster, Dusty Donuts, Kona Ice, La Katrina Tacos, Lumpy's Ice Cream, VFW Chuck Wagon, and Virgil's Jamaica.
View our Downtown Dining Options
No outside alcohol or coolers will be permitted during the event, but beer and wine will be available for purchase within the festival area starting at 3 p.m. Please note that wristbands will be utilized for age identification and will be required for alcohol purchases and may be obtained at the entry tents starting at 1 p.m. Each alcohol vendor is responsible for their own sales.
Tickets may be purchased in advance at Norse Brewing or at the event starting at 3 p.m. Tickets may then be redeemed at the event after 3 p.m. for a pint of beer for each ticket redeemed. Tickets not used may be redeemed at Norse Brewing anytime.

Tokens may be purchased in advance at White Street Brewing or at the event starting at 3pm. Token may then be redeemed at the event after 3 p.m. for a pint of beer for each token redeemed. Tokens not used may be redeemed at White Street Brewing anytime.
Designated Drivers are eligible to receive two free tickets for a free bottled water at the Fire Explorers tent located on Owen Avenue. The Fire Explorers will also be selling bottled water and soft drinks to the general public.


Nutcracker Preview
One of your favorite holiday traditions is back! Make plans to join the dancers of Wake Forest Youth Ballet as they delight you with a preview of the beloved holiday story of "The Nutcracker," from 1-4 p.m. in Town Hall's Centennial Plaza, 301 S. Brooks St.
Then, if you enjoy the preview during our holiday kickoff, don't miss your chance to experience an entire dose of holiday cheer and magic during a full production of "The Nutcracker," on Saturday-Sunday, Dec. 11-12, either in-person at Heritage High School Theater – or livestreamed from the comfort of your home. Young and old alike will be swept away in the magic of the performance.
The show features the tale of young Clara and her Nutcracker, who turns into a handsome prince and transports Clara to magical lands. After a frosty sleigh ride through the land of Snow, Clara is treated to performances from dancers representing treats from around the world in the Kingdom of the Sweets. Perhaps her favorite performance is that of the Sugar Plum Fairy and her Cavalier, featuring special guest performers from the Carolina Ballet.
Following a brief intermission, Destiny Dance Institute hip hop, jazz, and tap company dancers will entertain the audience with a variety of holiday numbers. For complete details, visit wakeforestyouthballet.org.
Meet Your Mayor & Commissioners
From 1-3 p.m. Wake Forest Mayor Vivian Jones and Commissioners Jim Dyer, Chad Sary, Bridget Wall-Lennon, and Adam Wright will meet and greet attendees, take pictures, answer your questions, and discuss the Wake Forest Cares Holiday Donation Drive in the Town information tent, located near the intersection of East Jones Avenue and South White Street. Be sure to stop by and say hello!


ACE Party Band
Parking
Free parking will be available along several side streets and parking lots throughout downtown Wake Forest and beyond. Please note: some parking lots may appear to be public, when in fact they are private. Read all signage in the parking lot to determine what type of lot you are using. Private lots are intended for business patrons only. Public lots that are open to attendees will be clearly marked.
Your best option is to take advantage of the free parking Southeastern Baptist Theological Seminary (SEBTS) has graciously made available in several campus lots. All of these lots are well with-in a 15-minute walk of South White Street.
Click the image to the right to view permitted parking in the following areas of downtown and SEBTS:
lots between South Main Street and South College Street

lot behind Patterson Hall

lot on Wingate Street

lots at North Avenue and Rock Spring Road
Handicap Parking is available in the Town Hall Parking Lot located at 301 South Brooks Street from 12pm-7pm.
Street Closures - Saturday, Nov. 13
The portion of South White Street from Elm Avenue to East Owen Avenue will close at 8 a.m.
The portion of South White Street from East Owen Avenue to East Wait Avenue will close at 10 a.m.
Thank You Sponsors!
The following local businesses have generously contributed to the 2021 Wake Forest Cares Holiday Kickoff: Bumgarner & Martin Orthodontics, McPherson Family Eye Care, Elan Dental, The College at Southeastern, OrthoNC, Westgate Dodge Ram, Mitchell Heating & Cooling, B&W Hardware, Girl Scouts - North Carolina Coastal Pines, Ting Internet, Avance Care, Elemental Acupuncture and Wellness, Circa Magazine, Wegmans Food Markets, Epic Axe, Primrose School of Heritage Wake Forest, Wells Family Dental Group, Civic Federal Credit Union, Carolina Orthodontics & Children's Dentistry, Triangle Family Dentistry, Fidelity Bank, Wake Forest Federal Savings & Loan and Carolina Regenerative Health.
Wake Forest Cares Holiday Donation Drive
In addition to ringing in the holiday season, the Wake Forest Cares Holiday Kickoff will signal the start of the Wake Forest Cares Holiday Donation Drive. As part of this effort, we are inviting the community to support one or more of these Town-sponsored programs: Helping Others by Providing Electricity (HOPE), Northern Community Food Security Team, Shop with a Cop, Wake Forest Firefighters Foundation, and Wake Forest Parks, Recreation & Cultural Resources Scholarship Program.