Clothes Recycling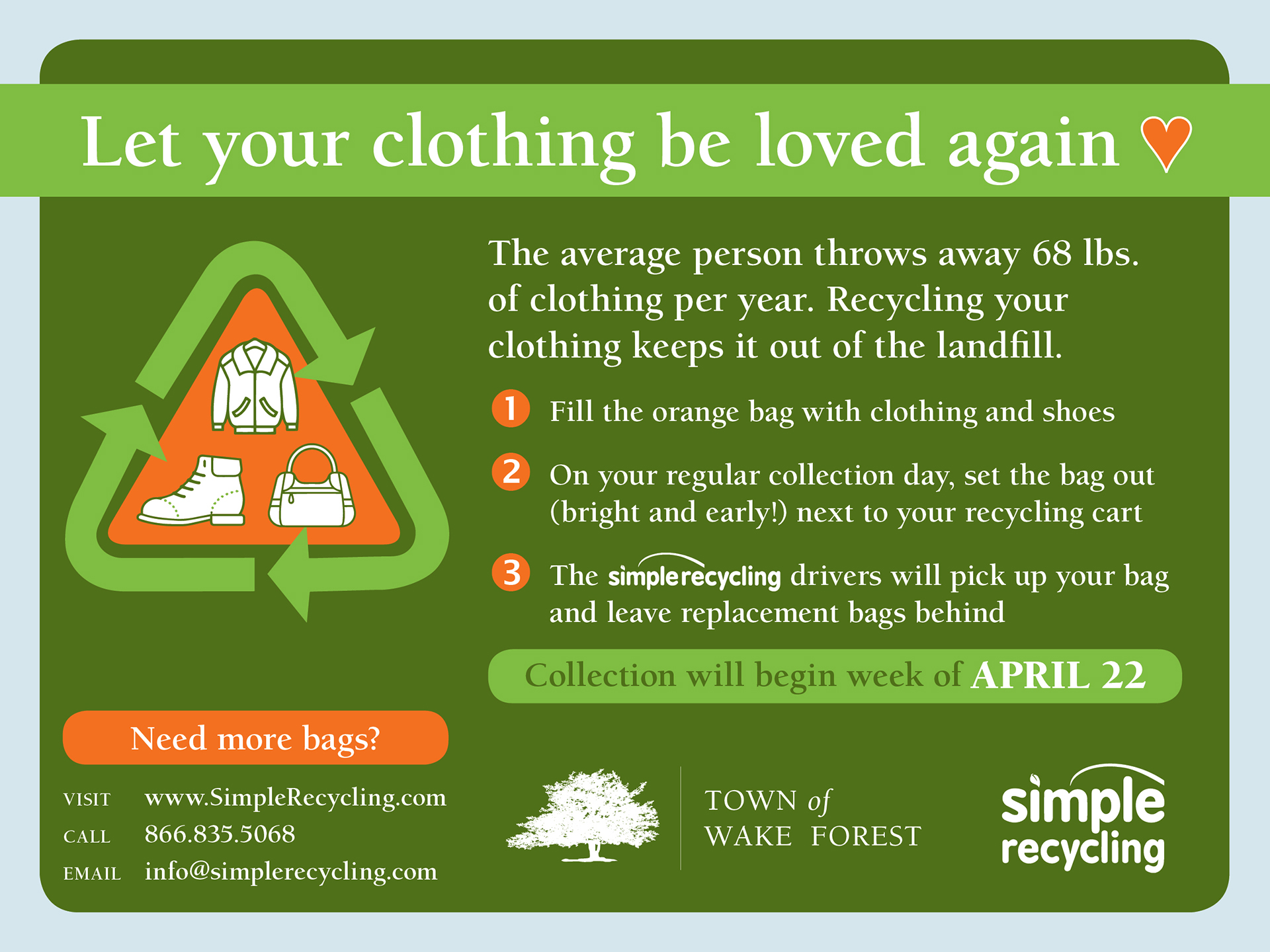 The Town of Wake Forest and Simple Recycling are partnering to offer a program that will allow Town sanitation customers to recycle clothing, shoes and various accessories.
Customers can fill the contractor provided orange bag with pre-loved clothing, shoes and accessories, then set the bag out next to their recycling cart on their normal collection day. Simple Recycling drivers will pick up the bags and leave replacement bags behind. New or additional bags can be requested directly from the contractor.
Simple Recycling is a for-profit recycler committed to offering residents the simplest and easiest way to keep usable materials from the landfill.
The average person throws away nearly 70 lbs. of clothing, shoes and accessories each year. By recycling these items, Wake Forest residents can keep them out of the landfill and make them available to others who can use them.

Accepted Items
Men's clothing, women's clothing, children's clothing, coats and jackets, jewelry, shoes, purses, hats, stuffed animals, blankets, drapes/curtains, pillows, sleeping bags, towels, silverware, dishes, pots/pans and backpacks.


Frequently Asked Questions
What happens to the collected items?
Simple Recycling vans pick up orange bags from the curb and take them to their facility for processing. All of the materials are graded and sorted based upon quality and condition. The top quality materials are resold to thrift outlets, mid grade items are exported to international markets, and "unusable" items are processed for raw materials.
How long will it take for Simple Recycling to return for a missed collection?
Report missed collections directly to the contractor and they will return within 24 hours of receiving notification.
I am physically unable to get my bag to the curb, how can I participate?
Call Simple Recycling 24 hours ahead of your collection day to schedule a pick-up: 866-835-5068
Can I place my bag right next to my recycling cart?
No. Please leave a few feet of space between the recycling cart and bag, or place the bag behind the curb to ensure easy collection for all contractors.
Is Simple Recycling a non-profit?
No. Simple Recycling is a for-profit recycling business and cannot provide a tax receipt. They have a mission to offer residents a simple and easy way to keep textile materials out of the landfill.
Where are local non-profits in the area?
A number of non-profits are listed below, please note that the list is not actively managed. Organizations with an asterisk are within Wake Forest town limits.


Local Non-Profits
Ukay Ukay Thrift Store*
720 N Main St (No Website)