NC GreenPower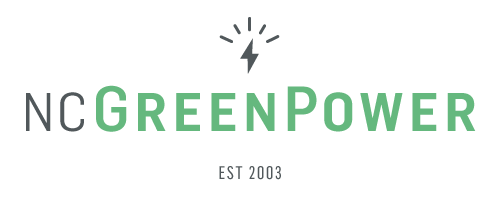 NC GreenPower is an independent, nonprofit whose mission is to expand public knowledge and acceptance of cleaner energy technologies to all North Carolinians through local, community-based initiatives. A landmark initiative approved by the N.C. Utilities Commission, NC GreenPower is the first statewide green energy program in the nation administered by a nonprofit organization and supported by all of the state's utilities.
NC GreenPower's goal is to improve our environment by supporting in-state renewable energy, carbon offset projects and providing grants for educational solar installations at N.C. K-12 schools. Your donation will add more renewable energy to North Carolina's power supply while also enhancing our students' education. The NC GreenPower Solar+ Schools grant application is open annually from January 2 – February 28.
All K-12 schools in North Carolina are eligible to apply. Please visit their website for more information.
NC GreenPower offers two contribution options
Residential and small commercial customers can donate to the Mass Market product, featuring energy produced from local renewable sources, such as wind, solar or methane sources. Customers can contribute to one or more $4.00 blocks of clean energy which generates 125 kilowatt hours (kWh) of green power, and a portion of your donation will also support solar projects at schools.

For larger customers, the Clean Energy Supporter product features energy produced from a wider range of sources, such as biomass and small hydro, at a reduced rate of $2.50 per block of 250 kWh, with a minimum contribution of 40 blocks (or just $100) per month.
Reasons to Sign Up
You can make a difference. You can impact the future of our children by improving their education, the environment and air quality.

It's affordable and tax-deductible. For as little as $4 a month, you can help protect our local environment and enhance education at N.C. K-12 schools. Over a year, our monthly tax-deductible contribution will add 1,500 kWh of green energy to North Carolina's power supply and help install solar on school campuses. That's the equivalent of not burning 1,215 pounds of coal or like planting 240 trees!

It's easy. Supporting NC GreenPower is an effective way to increase renewable energy resources and education in our state. Most of us want to do something to help, but our limited resources and time make it difficult to act. NC GreenPower provides us the opportunity to support cleaner energy sources.

It's cleaner and environmentally sustainable. With green energy sources such as wind, solar and organic matter we can generate cleaner electricity. It's a great way to keep us all healthier.

It's smart. Traditional energy sources like fossil fuels are nonrenewable and inevitably will run out. Working today to build up our supply of renewable energy sources will give us a more secure energy future.It is the right thing to do. NC GreenPower protects the environment to make North Carolina greener while enhancing our students' education.
NC GreenPower Facts
NC GreenPower is a statewide program designed to improve North Carolina's environment through voluntary contributions toward renewable energy.

This landmark program is the first of its kind in the nation to develop a statewide, regulated plan for green power. Individual utility companies in many other states have developed similar programs, but North Carolina's program is a collaborative effort supported by all the utility companies in the state and is administered by Advanced Energy, an independent, nonprofit corporation located in Raleigh, N.C.

In January 2003, the N.C. Utilities Commission (NCUC) approved the program plan for NC GreenPower to offer North Carolinians cleaner energy options.

In October 2019, the NCUC approved the NC GreenPower Solar+ Schools program after five years in pilot phase.

Any resident of North Carolina may voluntarily contribute to the NC GreenPower program for as little as $4 per month by signing up through their electric utility. That $4 will fund the

generation of a block of 125 kilowatt-hours of local renewable energy and grants for solar installations at N.C. K-12 schools. Contributions will be added to their monthly electric bill, collected by the electric utilities and forwarded directly to NC GreenPower. The utility companies keep none of the donations.

NC GreenPower also offers the ability for you to support local carbon offset projects. For each $4 block contributed by a customer, 1,000 pounds of greenhouse gases are mitigated through a project such as: methane gas capture from animal waste or a landfill; reforestation or avoiding deforestation. Donations to carbon offset may be made on their website here.

NC GreenPower is a voluntary program designed for monthly contributions. After two months of non-payment, contributors will be removed from the program and must sign up again to make future contributions. One-time contributions also are welcome. Contributions are nonrefundable.

Larger businesses may purchase green power at volume discounts.