Communications
The Communications Department is responsible for keeping the residents of Wake Forest informed about town programs and services, as well as the actions of the town government.
The department is responsible for developing newsletters, brochures, electronic and e-mail communications with citizens, videos, press releases and other informational materials, as well as managing content on the town's web site and Wake Forest TV 10. In addition, the Communications & Public Affairs Director works with the local media by providing information, arranging interviews and acting as a spokesperson for the town.
Ways You Can Stay Informed

Town of Wake Forest App
For iPhone, iPod Touch, iPad, and Android users search for "Town of Wake Forest" on iTunes, in the iPhone app store, or in Google Play. The app can also be downloaded by visiting our website and scanning the appropriate QR code.
Social Media
Facebook
The Town of Wake Forest has created a profile on the popular social networking site Facebook to assist with its outreach and communication efforts. Anyone who is interested can "Like" the Town of Wake Forest and receive information from the Town on their Facebook timeline.

Twitter
The Town of Wake Forest also uses Twitter to keep residents informed about programs, services and special events.

Nextdoor
The Town of Wake Forest and the Wake Forest Police Department are partnering with Nextdoor - the free and private social network for neighborhoods. The integration with Nextdoor enables the town and the police department to connect directly with residents in Wake Forest neighborhoods in a collaborative attempt to build safer communities, develop stronger relationships and strengthen virtual neighborhood watch efforts.
Media Releases/News
View all media releases and news items from the Town of Wake Forest.
Town Publications
Our Town
Our Town is the town's bi-monthly newsletter. Published every other month, Our Town is mailed to all Wake Forest residents in the 27587 zip code and residents of Wakefield.

What's Up in Wake Forest - formerly E-News
What's Up in Wake Forest is the Town of Wake Forest's electronic newsletter. Posted weekly, subscribers to E-News receive an email alert moments after its online publication. To subscribe, visit E-Notifier and subscribe to E-News.

The Week Ahead
As an added bonus to signing up for E-News, you also receive The Week Ahead - an electronic publication from the Town of Wake Forest distributed each Friday to E-News and E-Notifier subscribers. Created to help you make plans for the coming week, The Week Ahead provides the date, time, location, and a short description for activities listed on the town's Community Calendar webpage.

Guide to the Town of Wake Forest
The Guide to the Town of Wake Forest contains information about all things related to Wake Forest, including an overview of the town's history, a description of Town departments, and a list of popular annual events. The guide also provides important contact numbers, as well as information about town programs and services, advisory boards, and the Board of Commissioners. There are also sections devoted to area attractions, churches, civic clubs, plus a whole lot more.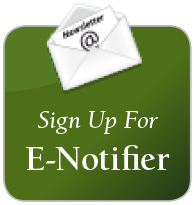 E-Notifier
Always be the first to know what's happening in the Town of Wake Forest by registering for E-Notifier - our free email subscription service. The service allows you to subscribe to several specific information categories and receive an e-mail notification whenever we post new information on the website related to your selected categories. Our goal is to help you receive the information you want as quickly and efficiently as possible.
This is a free service provided by the Town of Wake Forest, and you can rest assured your email address will only be used to deliver the information you request.
Wake Forest TV 10
WFTV 10 is the town's government access channel serving the residents of Wake Forest. Produced by the Town of Wake Forest Communications Department, Channel 10 is available to residents and businesses that subscribe to Spectrum Cable TV service. WFTV 10 also provides real-time streaming video. The information channel operates 24 hours per day. Programming includes live coverage of board of commissioners and planning board meetings, as well as a wide variety of locally produced television shows about programs, services and special events sponsored by the Town of Wake Forest.
Community Calendar
Hundreds of special events are held in Wake Forest throughout the year ranging from from popular annual events, such as Art After Hours, Six Sundays in Spring, the Annual 4th of July Celebration and the Christmas Parade to lesser known happenings, such as blood drives, church festivals and cantatas, and conferences. The Communications Department assembles information about these community events and produces the Community Calendar.

If you would like to submit information about your organization's special event for inclusion on the Community Calendar, send your submission to Bill Crabtree at least one month prior to the event. Be sure to include the event name, date, time and location, as well as any additional relevant information.
State of the Town
Since 2009 the Town of Wake Forest has partnered with the Wake Forest Rotary Club to sponsor the annual State of the Town Address and Dinner on the third Monday in February. The occasion offers Wake Forest citizens the opportunity to reflect on the town's list of accomplishments during the previous year and learn about its goals in the coming months.
Blackboard Connect - Town-to-Resident Notification Service
Wake Forest has implemented Blackboard Connect service to provide town officials the ability to communicate with residents regarding time-sensitive incidents, including both planned and unforeseen public safety matters. Blackboard Connect allows officials to record, send and track personalized voice messages to thousands of residents, businesses, and local agencies in just minutes, through a single phone call.
Engage Wake Forest
The Town of Wake Forest is always looking for new ways to engage residents and community members on important topics. That's why we're inviting you to participate in our new social engagement site - Engage Wake Forest. This site is another way we are encouraging you to share comments and suggestions that will help us shape the future of Wake Forest. Why Engage Wake Forest? Because, when our residents are civically engaged, they have taken the opportunity to make Wake Forest an even better place for everyone.