Attractions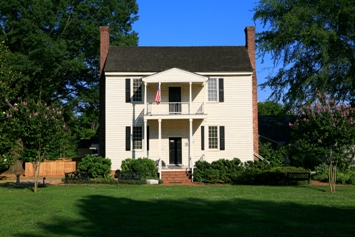 Wake Forest College Birthplace
The Wake Forest College Birthplace collects, preserves and displays the history of the town of Wake Forest as well as Wake Forest University. Visitors have access to an impressive collection of photos, books, college publications, furniture, documents, professors' writings, and medical, law and sports memorabilia.
450 N. Main St.
Wake Forest, NC
919-556-2911

Wake Forest Renaissance Centre
Serving as a dynamic addition to an already expanding downtown arts scene, the Wake Forest Renaissance Centre currently includes 10,000 square feet of commercial space. Located at 405 S. Brooks St. in Renaissance Place at the corner of Brooks Street and Elm Avenue, the facility offers a variety of cultural events, including concerts, plays, exhibits and recitals. The venue is also available to rent for events, such as conventions and meetings.
405 S. Brooks St.
Wake Forest, NC
919-435-9566

Downtown Wake Forest
From art galleries and specialty shops to coffee companies and consignment boutiques, Downtown Wake Forest is a vibrant, charming, historical and happening place to visit. Although Wake Forest ranks as North Carolina's 26th largest city with a population of just over 31,000, our downtown, or Renaissance Area, is quaint, walkable and full of friendly, small-town appeal.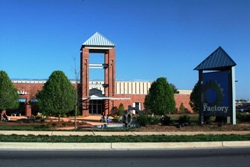 The Factory
What do you do when you are tired of driving from place to place for soccer practice, for dance lessons, to pick up a birthday gift, and to grab a bite to eat? You go to a place where you can do it all in one stop, that's what you do! The Factory is just that place, a sports and entertainment mall for parents and kids alike to eat, shop, and play.
US 1A/S. Main Street
Wake Forest, NC
919-453-1839

Wake Forest Farmers Market
Over the years, the Wake Forest Farmers' Market has grown into a lively community event each Saturday morning. We offer our own fresh-off-the-farm produce; pasture-raised beef, poultry, and pork; free-range eggs; fresh and dried herbs; honey, jams, and preserves; fresh-cut flowers; and delicious baked goods. The majority of our farm products are raised using environmentally sustainable agricultural practices, which are healthy for the soil, water, air, animals, and you!
The Farmers' Market is open year-round according to the following schedule:
April - October - 8 am to noon.
November - March - 10 am to noon.
Renaissance Place, 405 Brooks St.
Wake Forest, NC
919-671-9269

Hill Ridge Farms
Hill Ridge Farms is the Triangle's best destination for old fashioned, educational family fun, just 20 minutes north of Raleigh in Youngsville, North Carolina. Bring your children and grandchildren to relive our heritage and enjoy a day in the country!
703 Tarboro Road
Youngsville, NC
919-556-1771

North Carolina Museum of Art
The North Carolina Museum of Art features the most dynamic permanent collection south of the Potomac and east of the Mississippi rivers.
2110 Blue Ridge Road
Raleigh, North Carolina 27607-6494
919-839-6262

North Carolina Museum of History
Since its founding in 1902, the North Carolina Museum of History has been an exciting place to explore North Carolina history. The museum encourages visitors to discover the past; to reflect on their own lives and their place in history; and to preserve state, regional, and local history for future generations.
5 E. Edenton St.
Raleigh, NC 27601
919-807-7900

North Carolina Museum of Natural Sciences
North Carolina Museum of Natural Sciences is the largest natural history museum in the Southeastern United States.
11 W. Jones St.
Raleigh, NC 27601
919-733-7450

Triangle Town Center
Located on US 1 North (Capital Boulevard) visit North Carolina's newest and most spectacular shopping, dining, and entertainment experience.
5959 Triangle Town Blvd.
Raleigh, NC
919-792-2222

Recreation
Wake Forest Parks & Facilities
The Wake Forest Parks & Recreation Department manage 561 acres of parks, open space, natural land and trails. This includes five baseball/softball fields, three soccer fields, one pool, six picnic areas, eight playgrounds, eight lighted tennis courts, a dog park, the Wake Forest Community House, Flaherty Park Community Center, and more than six miles of greenway trails.

Banks D. Kerr Family YMCA
The Banks D. Kerr Family YMCA serves youth, adults and seniors in Wake Forest and the northeast area of Wake County. We strive to meet community needs through organized programs that promote good health, strong families, confident kids and better communities. We invite you to explore the many programs the Banks D. Kerr Family YMCA offers.
2500 Wakefield Pines Dr.
Raleigh, NC 27614
919-562-9622

YMCA at The Factory
The YMCA at The Factory was established in 2007 as a satellite branch of the Banks D. Kerr YMCA and is part of the YMCA of the Triangle, one of the largest YMCAs in the country. The YMCA at The Factory is a 21,000-square-foot facility that serves youth, adults and seniors in northern Wake County and Wake Forest through organized programs that promote good health, strong families, confident children and better communities.
1839 S. Main St., Suite 250
Wake Forest, NC 27587
919-453-5500

Falls Lake State Recreation Area
Hours of relaxation await you at Falls Lake State Recreation Area. Just moments away from the hustle and bustle of the city, Falls Lake is a great way to escape urban life. With a 12,000-acre lake and 26,000 acres of woodlands, Falls Lake State Recreation Area offers a choice of recreation areas, including Beaverdam, B.W. Wells, Highway 50, Holly Point, Rolling View, Sandling Beach and Shinleaf. Fishing, boating and swimming are only a few of the activities awaiting you on the water. On land, you can enjoy walking, mountain biking or camping along a portion of the state's Mountains-to-Sea Trail. From recreation to environmental education, no matter what you are looking for, you are sure to discover it at Falls Lake.
13304 Creedmoor Road
Wake Forest, NC 27587
919-676-1027

Jellybeans Super Skate Center
Jellybeans Super Skate Center ensures the best in-line/roller skating and sound and light show around. Playing all the new music as well as the oldies, Jellybeans offers a great quality maple hardwood skate surface, snack bar, exciting video and redemption games, and a fun Redemption Center full of prizes and novelties. The courteous and professional staff are ready to greet you with a smile. Jellybeans also offers Hockey and Day Camps.
10701 Common Oaks Drive (behind the Kroger Shopping Center in Wakefield)
919-562-2326

Wake Forest Parks, Recreation & Cultural Resources Department
919-435-9560

Wake Forest Boys & Girls Club
919-556-7266

Northern Wake Senior Center
919-554-4111

Professional Sports
NHL Hockey
Carolina Hurricanes
RBC Center
1400 Edwards Mill Road
Raleigh, NC 27607
Main Office: 919-467-7825
Ticket Information: 1-866-645-2263
Minor League Baseball
Carolina Mudcats
1501 NC Highway 39
PO Drawer 1218
Zebulon, NC 27597
Main Office: 919-269-2287
Ticket Information: 919-269-2287
Directions

Durham Bulls
409 Blackwell St.
Durham, NC 27701
Main Office: 919-687-6500
Ticket Information: 919-956-BULL
Directions

Library
Wake Forest Community Library
400 E. Holding Ave.
Wake Forest, NC 27587
919-554-8498