QR Codes
---
This is an example of a QR ("Quick Response") code. QR codes are like the barcodes you see on retail products, but they can contain a lot more information than a simple item number.
The code to the left is just another way of directing you to food and beverage options in Downtown Wake Forest. QR codes can be read by smartphone cameras, which saves you from having to type in long web addresses.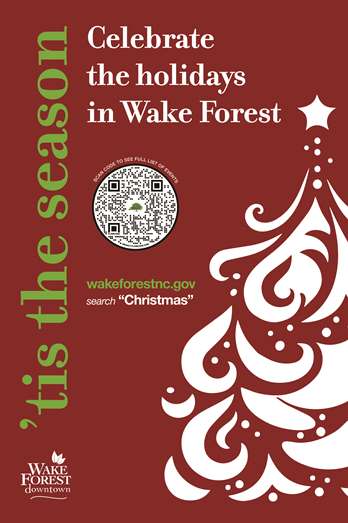 QR codes can also be used to display other text, such as contact information or menu options. QR codes can be placed on anything from signs and flyers to A-frame signs/sandwich boards and business cards. They provide an easy way for you to get more information about a subject, without having to remember or type anything.
Most of the major-brand smart phone devices offer built-in QR Code readers or provide free readers in their respective online application market places. Once you have the reader on your phone you can simply use your phone's camera to "scan" the QR Code and your mobile phone will be directed to the page you are currently viewing from your more stationary device.
Wake Forest uses QR codes in a variety of ways. For example, codes on A-frame signs help you find info about our Christmas events, complete event surveys, and sign up to receive notifications about Town programs and services. If you have any feedback about our use of QR codes, please be sure to let us know!
How to scan a QR code on an iPhone
Open the Camera app on your iPhone.

Point your camera at the QR code to scan it.

Tap the notification that appears at the top of your screen to open the content.
How to scan a QR code on an Android phone
Press and hold the home button, then tap Lens.

Point your camera at the QR code, then tap the magnifying glass icon to scan it.

Tap the pop-up notification to open the content.