Peggy Allen Lifetime Achievement Award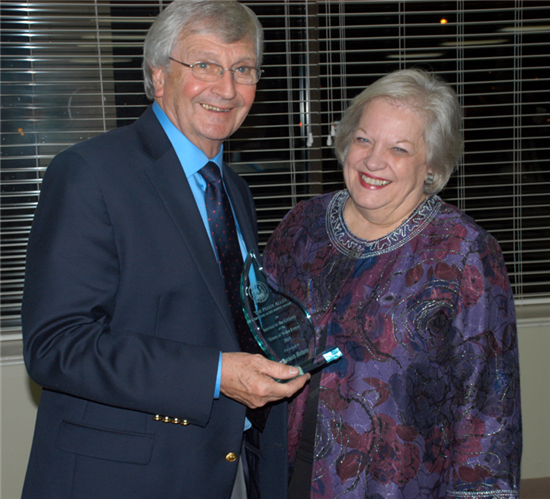 The Peggy Allen Lifetime Achievement Award was first awarded in 2005 to Peggy Garrin Allen for her lifetime of service to the Wake Forest Community and was named in her memory.
Peggy Allen was a graduate of Wake Forest College when it was located in our town. For many years she with her husband Bob published the Wake Weekly newspaper winning numerous national awards. Peggy was epitomized as being selfless, having a deep love of community. She was known for her love of children and believed that our children are our future. She was one who put family first and to Peggy family went well beyond her immediate kin to include the entire Wake Forest family. She was active in many community organizations and volunteered countless hours to community service.
The recipient should be an individual who has contributed at least 10 years of service to the Wake Forest Community and epitomizes many of the characteristics that Peggy was known to possess. The nominee should have a record of long service to the greater Wake Forest Community.

Nomination Form
Peggy Allen Lifetime Achievement Award - nomination form

PLEASE NOTE
Nominations must be received by noon on the third Wednesday in October.

To request a hard copy of the nomination form, please email the Wake Forest Community Council. Hard copy submissions may be dropped off at the Town Hall Information Desk, located in the lobby of Town Hall, 301 S. Brooks St.

Peggy Allen Lifetime Achievement Award Winners
2005 Peggy Allen

2006 Rhonda Alderman

2007 Barbara Massenburg

2008 Jonnie Anderson

2009 Chip Russell

2010 Al Merritt

2011 Martha Loftin

2012 Karen Winstead

2013 Durward Matheny

2014 Ruth Ann Dyer

2015 Robert "Bob" Hill

2016 Vivian Jones

2017 Michael Johnson

2018 Jim Adams

2019 James Warren

2020 Greg Harrington

2021 Jill & Randy Bright

2022 Dr. Enoch Holloway