Citizen of the Year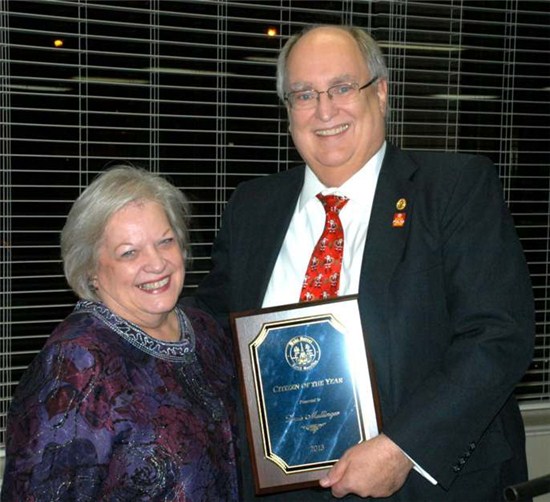 The Wake Forest Citizen of the Year should be a person who during the past year has demonstrated exemplary volunteer efforts, possesses the highest standards of responsibility in civic life, has helped in the promotion of the public welfare and personally worked with distinction to benefit Wake Forest.
A volunteer in the Wake Forest Community who's efforts exhibit leadership, vision, creativity and positive citizenship by providing service to programs and activities which impacts our Community.

Is an inspirational role model and made a significant contribution to the Wake Forest Community.

Volunteer service must be beyond that contained in the nominees work related job description.

Nominee is an example that inspires others to serve our community, committed to enhancing Wake Forest, provided selfless service and brings distinction to what they do.

Has proven to be a person who puts others before themselves and strives to make Wake Forest the best it can be.


Nomination Form
Citizen of the Year - Online Nomination Form


PLEASE NOTE
Nominations must be received by noon on the third Wednesday in October.

To request a hard copy of the nomination form, please email the Wake Forest Community Council. Hard copy submissions may be dropped off at the Town Hall Information Desk, located in the lobby of Town Hall, 301 S. Brooks St.

Citizen of the Year Winners
1965 Eleanor Reid

1966 Mac Bridge

1967 Henry Miller

1968 George & Kathleen Mackie

1969 J.L. Warren

1970 Marie Joyner

1971 Paul Brixhoff

1972 Bob & Peggy Allen

1973 Carroll Trotter

1974 O.T. Binkley

1975 Esley Forbes

1976 Ailey Young

1977 Billy & Rose Shearon

1978 W.C. Stephenson

1979 John B. Cole

1980 Ruth Snyder

1981 Bertha Harris

1982 Thelma Wright

1983 Jimmy Perry

1984 C.E. Matthews

1985 Ursula Wilkinson

1986 W. Roy Powell

1987 Phil Price

1988 Willie Fleming

1989 Rufus H. Forrest

1990 John & Barbara Lyon

1991 Lydia Lowie & Tom Arrington

1992 Bruce & Margaret Keith

1993 Hope Newsom

1994 Elizabeth F. Bartholomew & Ricky Wright

1995 Virginia Olsen & Joyce Board

1996 Margaret J. Wineinger

1997 Helen Lee

1998 Tom Jackson

1999 Sherrill and Susan Brinkley

2000 Jerry Jones & Susan Neely

2001 The Bright Family

2002 Beverly Whisnant

2003 Mark Williams

2004 Bob & Elizabeth Johnson

2005 Andy Ammons

2006 James S. Warren

2007 Carolyn H. Furr

2008 Shirley Wooten

2009 Michael Johnson

2010 Lisa Newhouse

2011 Jill Bright

2012 Heather Holding

2013 Louis Mullinger

2014 George Aux

2015 Greg Harrington

2016 Dawn Nakash

2017 Mandy Duguid

2018 David Greenwell

2019 Dolores & Eddie Riggins

2020 Frank Everitt

2021 Joe Kimray

2022 Mary Petretich