Top 10 Things to Know Before You Go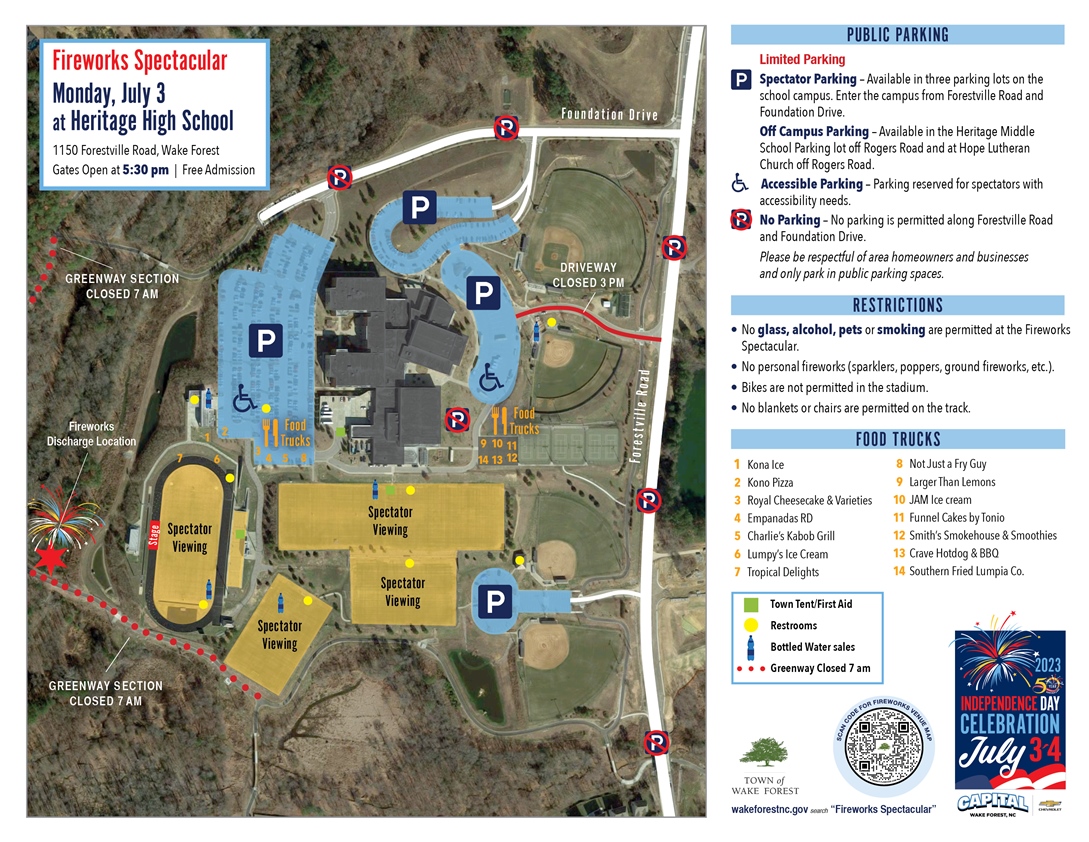 Wake Forest's two-day Independence Day Celebration presented by Capital Chevrolet kicks off July 3 with the Fireworks Spectacular at Husky Stadium on the campus of Heritage High School, 1150 Forestville Road.
If you're planning to attend, here are the Top 10 things you should know, before you go:
Admission
Admission is free! Gates open at 5:30 p.m.

Entertainment
The Band of Oz will perform prior to the fireworks show.

Fireworks
The fireworks show will begin at approximately 9:30 p.m.

Picnic Baskets & Coolers
Picnic baskets and coolers are allowed on the campus and inside the stadium - but no alcoholic beverages, smoking, glass or pets are allowed on the Heritage High School campus.

Lawn Chairs & Blankets
Attendees are invited to bring lawn chairs and blankets and enjoy the festivities on the Husky Stadium football field or in one of the designated viewing areas on the Heritage High School campus. PLEASE NOTE: No stakes are allowed in the turf in any of the viewing areas. Spectators may also sit in the bleachers on the home side of the stadium.

Don't Get Too Comfortable on the Stadium Track
No chairs, blankets or bicycles will be permitted on the stadium track. No stakes allowed in the turf.

Bring Bug Spray
Expect mosquitoes. Bring bug spray.

Concessions & Food Trucks
Concessions, including hamburgers, hot dogs, popcorn, and snow cones will be available at the Fireworks Spectacular. Several food and dessert trucks will also be on site. Check out the event map above for specific locations.

Parking
Accessible parking (by identification only) and regular parking will be available in designated areas on the school campus. Parking will not be allowed along Forestville Road or Foundation Drive. Please note: some parking lots may appear to be public, when in fact they are private. Private lots are intended for business patrons only. A few local retailers within walking distance of Heritage High School, may hire Wake Forest Police officers to monitor their parking lots and limit parking to business patrons only.

Patience is a Virtue
We are expecting a great turnout. Traffic in and around Heritage High School will likely be heavy. We ask for your patience both entering and exiting the school campus. Please note: at the conclusion of the fireworks, no vehicles will be permitted to enter the school grounds until all the traffic exiting the stadium is clear.