Visitors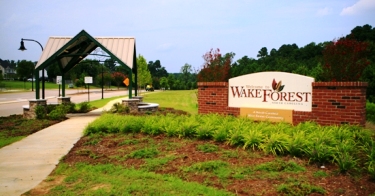 Wake Forest is a unique community with a thriving downtown where you can walk just about anywhere to shop, eat or simply visit.
Situated less than 10 miles north of Raleigh and approximately 250 miles south of Washington, DC, Wake Forest is a prime location for anyone wishing to enjoy a quality way of life with all the benefits of city living. The community offers quick, easy access to the Triangle's first class universities, the Research Triangle Park, Atlantic Coast Conference athletics, professional sporting events, and world renowned golfing events. In addition, the beach is just over two hours away, while the mountains are a three to four hour drive, so you are never very far from North Carolina's most popular vacation destinations.
The area offers a variety of places of worship, while the Wake Forest Chamber of Commerce actively promotes the area through family activities and programs that encourage businesses to prosper.
Come visit Wake Forest - a friendly town where neighbors know neighbors, people walk the streets and the historical district offers something for everyone.
If you are looking to relocate to Wake Forest, visit our local government, business, employment, and schools pages to find useful information on moving to Wake Forest.
This page is designed to help you plan and enjoy your time spent within our wonderful town. Feel free to use the links below or to the left of the page to navigate through our visitors page.