Rain Gate & Leaf Shade Bench Artwork Descriptions
By Artist Robert Tully
Rain Gate
Rain Gate is a bench sculpture that serves as an artistic gateway for pedestrians on the south end of Wake Forest's new downtown streetscape. Located at the Wake Forest Area Chamber of Commerce parking lot with the bio-retention feature, it has an additional function as an artwork that celebrates the rainfall that contributes to making Wake Forest "green." Whenever it rains - typically a little more than once a week - the gateway structure gathers enough water to be released slowly down an artistic rain chain for 11 hours or more with an average rain. The concept is not known to have been used in an artwork elsewhere, so it would be a rare or unique piece with an environmental note in that it does not use electricity and makes people more aware of the environment.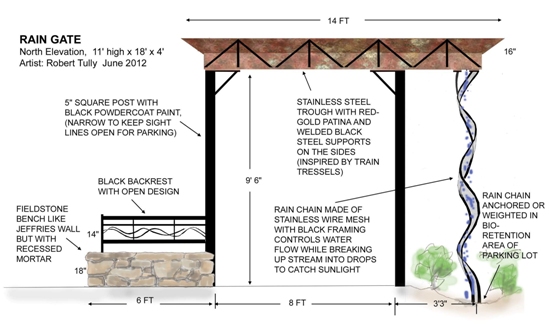 The stone and steel sculpture is 12' high, 20' long and four-feet wide (the width of the rain trough that extends over the sidewalk).
The bench part of the gateway has stonework inspired by the historic Jeffries wall around the Southeastern Baptist Theological Seminary campus. It would be made of similar fieldstones, although rather than simply stacked they would have recessed mortar for permanence. The bench would be 18" wide with a backrest with black powder-coated paint to fit into the historic setting.
The bench would be 4- to 6-feet long depending on confirmation of underground utility locations that might affect foundations.
To evaluate the rain-event fountain concept, the artist studied rain records from Wake Forest and tested flow rates with different spout sizes. In 2011, Wake Forest had 52 rains with more than 0.2 inches of rain (significant ones, that is). So typically the town could expect to see the "fountain" run once a week or more. The average quantity of rain was 0.7 inches of rain.
The sculptural gateway was sized to hold enough water to run long enough for people to see it work. A duration of about 12 hours was judged ideal. If it rained at midnight, it would flow till noon the next day. If it rained in the morning, it would run all day. It would be visible but still a special event. The selected rain trough was designed to be four feet wide and 14' long. It would produce a thin, continuous stream that would be broken up into many visible drops running down a perforated metal screen like a rain chain.
The table below shows running times depending on rainfall:
 

 

Rain Depth

 

 

Water captured in a trough 4' x 14'

Hours of fountain duration
(flowing at 1.3 gallons/hour in a thin stream)

.25 inches

8.7 gallons

6.7 hours

.50

17.4

13.3

.67 (the average rain)

23.4

18.0

1.0

34.8

26.7

2.0

69.6

53.5
The table shows the average rain could produce an 18-hour fountain. To be conservative and to allow for design flexibility, an 11-hour goal is stated here.
The rain sculpture would be constructed and tested at the artist's studio prior to installation. An engineer would also review the design for the bench foundation and steel thicknesses.
The rain trough would be made of stainless steel so that no rust would develop. Aside from a fine stainless steel screen on top to keep leaves and bugs out, the trough is open to the sun and air, so it would dry out quickly to combat algae or moss (it is essentially a large rain gutter). A second fine screen would be located near to the spout to prevent clogging. The trough would have a removable cover for any maintenance from a ladder.
The rain trough shape is inspired by train tressels and downspouts on buildings nearby. To fit in with the historic character, the stainless steel would have a reddish patina on the outside--staying plain on the inside.
The rain chain would be anchored in the bio-retention area, which cleans storm-water runoff from the parking lot. The anchoring system would be worked out in cooperation with the landscape architects; possibilities are a small concrete pier or weights. The rain chain effectively would hang from the trough. Roughly 12" wide, it would have a wave shape made of structural steel channels holding a perforated metal sheet in the center, where the stream would scatter into droplets and rivulets.

Leaf Shade Bench
Leaf Shade Bench is a seating canopy at Jones Avenue made of small squares of bronze plate welded together at various angles in a leaf-like way, yielding many light and dark contrasts. It is inspired by the presence and importance of trees in the town, as well as the need for shade and color at this prime corner.
The canopy would be about 12' x 10' in span and about 2-feet thick in a couple of generally horizontal layers. The intent is not to make a sculpture of a tree but rather to focus on a tree's light and dark properties and colors. The bronze plates would have patinas of red, blue green, and gold. The advantage of the patinas is that they bring color to downtown through part of the copper-like material not as an intrusive paint.
The canopy would start about eight feet above the ground. It would be supported by a steel framework 12' high with a black powder-coated surface like wrought iron details around downtown. Shapes of the framework are inspired by the lead patterns in glass windows downtown and at the college churches. A prominent square in the design mirrors the square design in the new center of the Jones and White intersection.
Under the shade canopy would be a brick bench with a T shape. This shape fits into the flow of pedestrians and creates three separate seating niches - useful since groups of people often don't share one bench. The bench is 8 x 7 feet and 18" high. It could seat nine people. The bricks would be built around a concrete foundation by a local contractor. A backrest is part of the framework design.
Bricks are chosen for the bench because that is the main historic material in the area. The brick detailing includes aspects common to the buildings downtown, such as windows and doors that have been bricked in or else sealed with a panel. These evolutionary details are part of the character and also evoke a sense of time in a sculpture.

Maintenance
The patinas on the sculptures are best preserved by painting on a clear protective coat of Incrylac or similar sealer once a year. The canopy at Jones Avenue is about 120 sq. ft. with two sides. The rain trough has a surface area of about 40 sq. ft.
The rain trough might need cleaning inside occasionally, wiping it out with a rag and washing the screen filter. This would take experience to determine how often; in the beginning it should be checked every three months to develop this experience.
The powder-coat black paint surfaces will have a zinc-rich primer underneath and should last 15 years or so without repainting. They should be inspected annually and eventually parts are best removed and sent to a powdercoater for refinishing. They can be painted by hand but this does not last as long or look as good.