Business
The Town of Wake Forest has everything you need to ensure business success. With nearly 40,000 residents, Wake Forest provides a quality of life and business-friendly environment that few places can equal. That's why business and industry have thrived in this community for over a century and continue to do so today.
Located less than an hour's drive from the major cities of Raleigh and Durham, we enjoy a climate that offers the beauty of changing seasons while at the same time moderate enough to foster the enjoyment of the outdoors year-round.

In addition, Wake Forest has a large trainable work force that boasts a strong work ethic and a tremendous sense of loyalty to employers.
This page is designed to help you navigate through the town's "Business" pages. The links below or to the left of the screen are provided to assist you with your day-to-day business in Wake Forest.

Discover Wake Forest - Wake Forest Economic Development
The Town of Wake Forest's economic development website provides instant access to information about Wake Forest including demographic statistics, quality of life, business resources, development activity, town infrastructure, economic indicators, downtown development, and much more. The site also features a building and land inventory search that provides quick and easy access to information. Interested individuals can simply log onto the site and search local listings. Wake Forest works closely with local brokers to create a database of information for the site including property address, property type, square footage, location description, additional property details, and broker name and contact information.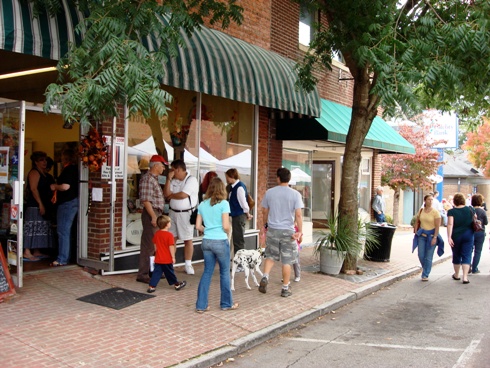 Town Departments & Services
Here's where you can find out about the many services offered by the Town of Wake Forest.

Guide to Starting a Business in Wake Forest
The development process can be quite complicated - especially if you don't know the proper steps. The Wake Forest Planning Department has prepared an easy-to-follow flow chart designed to help local landowners, architects, engineers, developers, and other interested parties understand all phases of the development review process in the corporate limits and extra-territorial jurisdiction (ETJ) of the Town of Wake Forest. With numerous codes, policies and procedures involved in securing development approval, this guide makes the development process more understandable and provides staff sufficient opportunity to ensure compliance with each applicable regulation.

Forms & Applications
Applications for Beer & Wine Licenses, Board of Adjustment, Certificates of Appropriateness, Development Permits, Flood Permits, Sign Permits, Special Use Permits, and much more are found here.

Strategic Economic Development Action Plan
In 2005 ElectriCities of North Carolina, Inc. contracted with The Sanford Holshouser Business Development Group, LLC (Sanford Holshouser) to provide economic development planning assistance for several member cities. The Town of Wake Forest agreed to participate in the planning project. The goal of the planning process was to improve the economic development preparedness of Wake Forest in order to attract new investment with quality jobs, and to retain and expand existing industries, businesses, professions, and services. The Strategic Economic Development Action Plan is a result of this effort. PDF file is 852 KB in file size

Maps, Plans & Ordinances
Town of Wake Forest Code of Ordinances, Historic District Guidelines, Land Development Plans, Land Use Management Plans, and more!


Inspections Fees
General fees, non-residential permit fees, water meter and electric fees, and more.

Inspections Procedures
Find out how to fill out a residential building permit application, the requirements for a residential or commercial plan review and more.

Planning & Zoning
News and contact information about Planning and Zoning requirements in the Town of Wake Forest.

Chamber of Commerce
A link to the Wake Forest Chamber of Commerce.

Wake Forest Downtown, Inc.
Formed in 1984, this volunteer-based organization endeavors to foster the health and vitality of Downtown Wake Forest.

Quality of Life
Information about climate, culture, education, housing, labor, and a lot more!