Shop With A Cop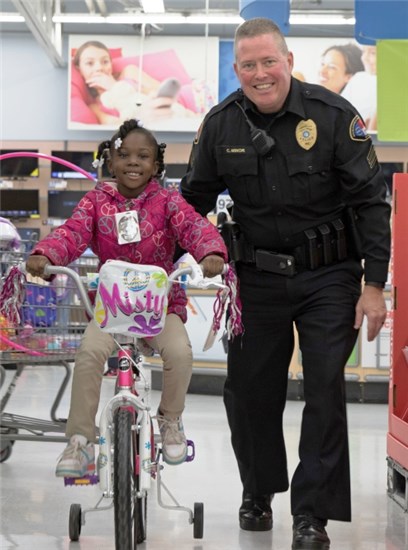 Shop With A Cop raises money throughout the year in order to provide a joyous Christmas to underprivileged children within our community.
Individual officers "partner" with children one-on-one and accompany them to Walmart where each child is given over $175 to spend on items of their choice. Each child is also provided a winter coat which is not part of the $200 spending money.
After shopping, the children enjoy a pizza party at the Flaherty Park Community Center with their partner officer.

Donate Now
Online
The Wake Forest Police Department accepts online donations for Shop With a Cop through PayPal, a secure online banking website.

Cash or Check
Cash and checks written to the Wake Forest Police Department are also accepted.
Make checks payable to "Wake Forest Police Department" and write Shop With a Cop on the memo line.
Cash and checks may be delivered to the Wake Forest Police Department, 225 S. Taylor St. The police department is open from 8 a.m.-4 p.m. Monday-Friday, except for Town-observed holidays.
Mail checks (no cash) in a stamped envelope addressed to:
Wake Forest Police Department
Shop With a Cop
225 S. Taylor St.
Wake Forest, NC 27587


Wake Forest Cares
The Police Department Shop with a Cop program is a Wake Forest Cares initiative.