Centennial Plaza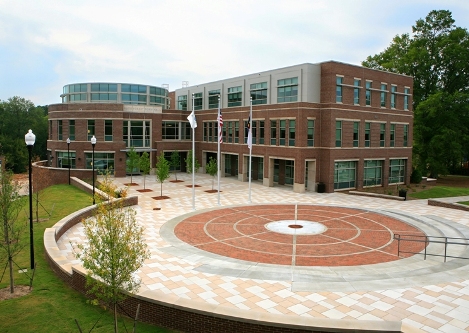 Located along South Brooks Street and named in honor of Wake Forest's 2009 Centennial Celebration, Centennial Plaza serves as the gateway to the Wake Forest Town Hall. Among its many distinctive features are the engraved brick pavers which have been purchased by local residents, businesses and civic groups to honor a loved one or commemorate a special event.
An attractive outdoor venue for various community events, Centennial Plaza was the site of the town hall grand opening ceremony on Friday, Sept. 10, 2010. Since then it has been used for the annual National Day of Prayer in May and the annual Walk to School Day in October. In addition, the plaza serves as the perfect venue for the community's monthly Memorial Flag-Raising Ceremony, as well as the popular Lighting of Wake Forest held each year on the first Friday in December.
A time capsule is buried adjacent to the plaza and is scheduled to be opened in the year 2059.

Centennial Plaza Flags
The half staff American flag widget (shown below) will automatically display the American flag at half staff on the days when it is appropriate to fly the flag at half staff. It will also give the reason why the flags in Centennial Plaza are at half staff.