Guided Tours
Town Hall Tours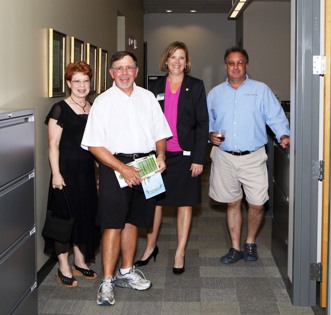 Group tours of the Wake Forest Town Hall are available free of charge weekdays between 8:30 a.m. and 3:30 p.m.
The suggested appropriate age for this tour is 8 years and older. The tour lasts approximately 30-45 minutes and is limited to 25 people at one time. However, depending on availability, a second tour guide may be added to accommodate a larger group that does not exceed 40 people.
For school groups, we request that a minimum of one adult accompany every 10 students.
Reservations are required at least one week in advance and can be arranged by completing the Guided Tour Request Form. If you have additional questions, please contact our Community Outreach Assistant Kiel Ortiz.

Special Accommodations Request
We are committed to providing equal access and opportunity for all our guests and visitors. If you require any special accommodations or assistance, our ADA Coordinator requests at least two weeks advance notice if possible.

Tour Overview
Guided group tours begin at the Town Hall Guest Services Desk, located in the center of the first floor lobby, and continue throughout the 44,000 square foot facility.
While visiting town hall, you will enjoy a behind the scenes look of your government at work that includes a tour of the magnificent rotunda, a brief presentation inside the state of the art board chambers, and a peek inside the mayor's office.
The tour also highlights many of the "green" features incorporated as sustainable elements into the building's design and construction.
After touring the inside of town hall, you will also have the opportunity to explore the entire municipal campus, including Centennial Plaza and the Oak Tree Save Area.