Wait Avenue/Dr. Calvin Jones Highway Intersection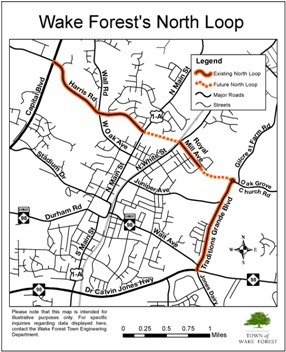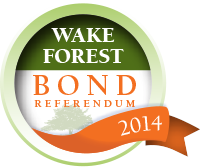 In January 2013, the Traditions Development contractor, Fred Smith Company, closed the portion of East Wait Avenue in the vicinity of the Jones Dairy Road/Dr. Calvin Jones Highway (NC 98 Bypass) intersection. The closure was necessary in order for the contractor to grade and realign the road from its present location to a new intersection.
In early March, the intersection reopened featuring a new road, Traditions Grande Boulevard, and a new intersection alignment that no longer permitted direct left turns for motorists traveling west along Wait Avenue. The NCDOT required the new alignment as part of a long-term transportation strategy.
Traditions Grande Boulevard is part of what will become the North Loop - a new major thoroughfare that will connect southeast Wake Forest to the northwest part of town.
Once completed, the North Loop will permit traffic to move around Wake Forest to Capital Boulevard at Harris Road without accessing North Main Street or traveling through the downtown area. As a result, the North Loop is expected to experience greater volumes of traffic than Wait Avenue and will be considered a "superstreet."
NCDOT required the modifications to the Wait Avenue intersection based on accepted superstreet guidelines. Due to concerns for public safety and optimal traffic flow, these guidelines prevent direct left turns in and out of minor streets at main intersections and are the reason NCDOT would not approve a direct left-turn movement from Traditions Grand Boulevard onto Wait Avenue.