Wake Forest Cares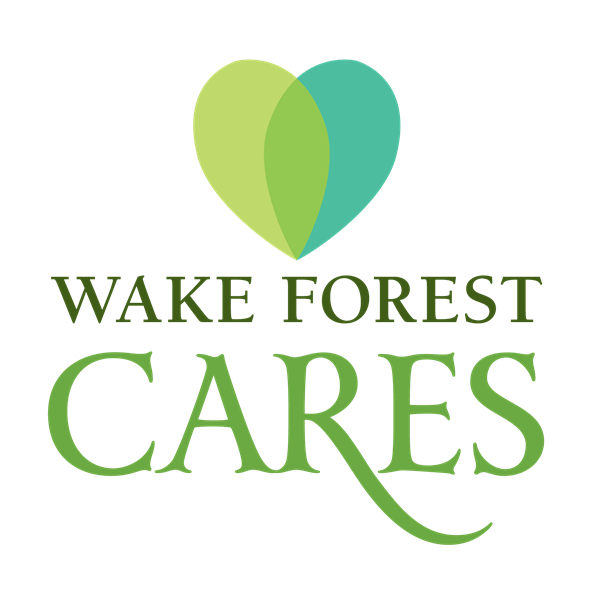 Wake Forest is a community that cares. As consistently as sunrise, our citizens contribute their time, talents and resources to help neighbors in need or support worthwhile causes that make a lasting difference.
In recognition of this wonderful legacy, the Town of Wake Forest is excited to launch "Wake Forest Cares."
Moving forward, all Town programs and events designed to help a neighbor or address a community need will be highlighted as a "Wake Forest Cares" initiative. A few examples include the Wake Forest Police Department Turkey Drive and Shop with A Cop, along with the Town's Adopt-A-Stream and Adopt-A-Trail programs and Wake Forest Power's H.O.P.E. – just to name a few.
So look for the Wake Forest Cares logo. When you see it, you'll know you have an opportunity to make a difference in the life of our community.
2020 Wake Forest Cares Holiday Donation Drive
An equally important part of Wake Forest Cares involves an annual donation drive to raise funds for select community non-profits. For our inaugural Wake Forest Cares Holiday Donation Drive, a committee has chosen the following local non-profit organizations/initiatives in which to enlist community support:
Tri-Area Ministry Food Pantry

Hope House Wake Forest

Wake Forest Boys & Girls Club

Helping Others by Providing Electricity (HOPE)

Shop with a Cop

Ronald McDonald House of Durham & Wake - In partnership with WF High School DECA Chapter
These organizations/initiatives are working to address specific needs in our community – whether it be hunger, home lighting and heating, tutoring, mentoring, safe spaces, and/or providing joy and hope during the holiday season and beyond. The Wake Forest Cares Holiday Donation Drive is an opportunity to demonstrate our support for these important efforts.
Continue reading below to learn how your donation will assist those in need.
We will accept donations through Thursday, Dec. 31, 2020. Town officials will present checks to the charities in January 2021.
Check Donations Accepted
If you prefer this method of donating, please make your check payable to Town of Wake Forest and include Wake Forest Cares in the memo line. Pease mail it to: Town of Wake Forest, 301 S. Brooks St., Wake Forest, NC 27587.
PLEASE NOTE: 100% of all donations will be directed to your designated organization(s)/initiative(s). In addition, you may donate to more than one cause. If you choose to contribute to more than one organization/initiative, your contribution will be distributed evenly unless otherwise instructed. So, for example, a $50 donation to two causes would result in each receiving $25.
Submit Your Photos
Each person, business, church and community organization that contributes to our Wake Forest Cares Holiday Donation Drive will receive a Wake Forest Cares certificate. We encourage everyone who donates to take a photo of themselves holding their certificate and share it with us through our online submission form. Through the end of 2020, we will post all the pictures we receive on our Facebook page and in our online photo gallery.
NOTE: When taking group photos, please follow CDC and state health guidelines.
Help Support These Efforts
Tri-Area Ministry Food Pantry
Founded in 1988, the Tri-Area Ministry Food Pantry is a nonprofit, non-denominational, 100% volunteer run organization with a mission to provide food to the food insecure in our community. TAM is the largest Food Pantry in the Wake Forest, Youngsville, and Rolesville area serving 800 families each month. We serve approximately 2,800 people per month or 34,000 people each year. Each family who visits the Food Pantry receives a grocery bag containing different types of food, including dry goods such as cereal, rice and beans, canned goods as well as fresh fruit, vegetables, bread, milk, eggs, butter and frozen meat, as well as other items based upon availability.
We receive federal food donations from the Food Assistance Program once a month. This assistance is administered by the Food Bank of Central and Eastern North Carolina. We also purchase food from the North Carolina state run Food Bank of Central and Eastern North Carolina, at deeply discounted prices on a weekly basis. Additionally, we pick up fresh products from our retail partners – Lowes Foods, Food Lion, Aldi, Panera Bread and Sheetz.
Churches, individuals and community organizations provide both financial and food donations, making it possible for us to serve a great number of families each month.
Food is distributed to each client once a month. The Pantry is open for distribution on Mondays and Wednesdays and the second and third Saturday of the month from 10:00 am until 1:00 pm.
Wake Forest Power's H.O.P.E. program
Wake Forest Power (WFP) is reminding residents of a simple, yet effective way they can help neighbors struggling to pay electric bills due to COVID-19 or other financial hardships. Helping Others by Providing Electricity or H.O.P.E. is an initiative offered by the Town of Wake Forest designed to help financially disadvantaged electric customers pay their utility bills. The program is funded by the generous donations of WFP customers and administered through a partnership between the Town and ChurchNet, a local non-profit organization assisting area people in need.
The Town directs 100% of the proceeds to ChurchNet which then determines which of the Town's electric customers qualify for assistance and how much financial aid they will receive. Again, every dollar donated to H.O.P.E. is used to help pay WFP bills.
Hope House Wake Forest
The primary mission of Hope House, Inc. is to reach the children in our community and help them improve their life skills educationally, socially and spiritually.
Over the past year, Hope House, Inc. has provided meals to an average of 28 people daily who were experiencing a financial crisis in their lives. People who had to make the decision for themselves and their children of whether to purchase food or pay their rent/light bills. With a donation of $25, we can purchase chips, fruit, meat, bread, and cheese for sandwiches and create 10 meal packages for the individuals in need.
We also gave out Angel Tree Gifts to 480 children in need during the 2019 Christmas season. Our gift bags included a new Christmas Day Outfit, toys, socks, gloves and a book about celebrating Jesus' birth on Christmas. Each package cost an average of $75, so any funds toward this activity is appreciated.
Hope House gives away book bags filled with school supplies, last year we gave away 350 book bags at our Fun Day activity. We tutored 15 children during the school year, encouraging them to learn teamwork and improve their skills for the school year.
Wake Forest Boys & Girls Club
The Wake Forest Boys & Girls Club has been supporting youth (age 6-18) to help them reach their full potential as productive, caring, and responsible citizens for over 30 years. The Club operates both an after-school program and a summer program where we serve over 220 members on a daily basis. We provide members with active and engaging programs in 5 core areas: Healthy Lifestyles, Education & Career, The Arts, Sports & Recreation, and Leadership Development. With everything that is going on, we have switched up our program model. Instead of being open after school, we are open from 7:30am to 6:00pm and provide members with a safe place to complete their virtual learning. In an effort to abide by local health guidelines we have increased the number of staff and drastically reduced the number of members in the building. Each day we support around 100 members; from helping them get logged on to live meetings to assisting them with their assignments. At this time our main goal is to make sure that our members meet their full potential with their virtual learning, provide a safe place to socialize and learn, and just be kids. We plan to follow WCPSS' lead and adjust our program as needed to serve our members best.
$5 - sponsors a day of virtual learning
$7.50 - annual membership for one child (renewal season starts in November & we have over 1000 members)
$15 - field trip to a favorite place
$30 - a week at Camp BTI, an outdoor summer camp
$50 - supplies for the Library/Education Room
$100- materials for the Art Room
$150 - Christmas Cheer for a Member (provides a family with presents for 1 member)
$250 - technology sponsor for virtual learning
Shop with a Cop
Shop with a Cop was created to help less fortunate boys and girls in the Wake Forest area experience a joyous Christmas. Since its inception in 1999, the program has helped well over 500 local children.
Your donation allows the Wake Forest Police Department to take approximately 30-35 kids on a holiday shopping spree. On the day of the shopping spree, the children visit the police department where they are paired with a police officer "partner." The kids and their partners are then transported by bus to the Wake Forest Walmart, where each child is given $175 to spend on a winter coat and other items of their choice. Following the shopping spree, the children and their partners are treated to a pizza party.
The Wake Forest Police Department raises money for Shop with a Cop through grants and donations from area citizens, churches, civic groups, and merchants.
Ronald McDonald House of Durham & Wake
The Ronald McDonald House in Durham opened its doors on February 1, 1980. It was the first House in North Carolina and the 13th in the nation. It was also the first Ronald McDonald House to open without the support of a professional football team. Instead, it was developed and supported entirely by the surrounding community – a tradition that continues today. RMH and its programs have evolved throughout the years, but providing comfort and support to seriously ill children and their families is still the heart of its mission. With the ongoing support of the community, RMH helps keep thousands of families close by their seriously ill or injured children when they need their families most.
Your donation will fund meals and basic RMH operations to keep families close to their seriously ill or injured children. Any amount you are able to give will provide direct support and comfort.