Transportation
Take our online public transit survey

Wake Forest is conducting an online survey to gather feedback from residents about the Town's bus service.
The survey is available from now through Friday, March 15, and takes less than five minutes to complete.
The questionnaire is an important element in the Town's public transit planning efforts. Officials will use the survey responses to identify ways to develop a transit system that accommodates our community's growing needs.
For more information, contact Transportation Engineer Jonathan Jacobs.
---
Wake Forest Bus Service
Wake Forest introduced bus service bus service in 2007. Wake Forest residents have the opportunity to ride a weekday rush-hour express from Wake Forest to downtown Raleigh and use a local circulator service that serves the town and provides access to grocery stores, shopping, and other services. The two routes are the result of a partnership between the Town of Wake Forest, Triangle Transit, and the City of Raleigh. Both the express route and the local circulator route are operated by CAT - Capital Area Transit.

Accessible Raleigh Transportation Program (ART)
If you are a Wake Forest resident with a physical or mental disability that makes it impossible to drive a car and/or use Wake Forest Bus Service, you may qualify for the Accessible Raleigh Transportation Program (ART). This program provides subsidized curb-to-curb transportation service through participating contractors. The program in Wake Forest is administered by the City of Raleigh and funded by the Town of Wake Forest. To apply, download this application. Part A must be filled out by the applicant and Part B must be signed by a physician or human services agency official. Mail both parts to the address contained in the application. For more information, visit the ART website.

Transportation Projects
Town staff manage the design and construction of numerous capital improvement projects in Wake Forest. Project managers work with consultants and contractors to improve the town's infrastructure, including new roads, sidewalks, greenways and curb and gutter. These projects support Wake Forest by making connections and supporting all modes of travel. Transportation-related questions or comments can be directed to Transportation Planning Manager, Suzette Morales or Transportation Engineer, Jonathan Jacobs.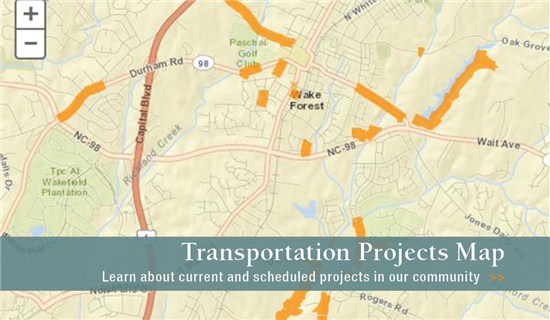 Active Transportation Projects Map
The interactive transportation projects map shown above highlights projects that have active construction sites, are in the process of being designed/permitted, and/or are currently funded for future design/construction.

Transportation Planning
A transportation system is not complete without comprehensive transportation planning that includes bicycle and pedestrian elements. These travel options provide essential connections to the town's transit system and are particularly important to create walkable communities. A strong bicycle and pedestrian program gives Wake Forest residents an option for travel beyond one person in one vehicle. It creates a community where it is possible to live, work, and play in the same area. To learn more about the town's transportation policies, review the Community Plan.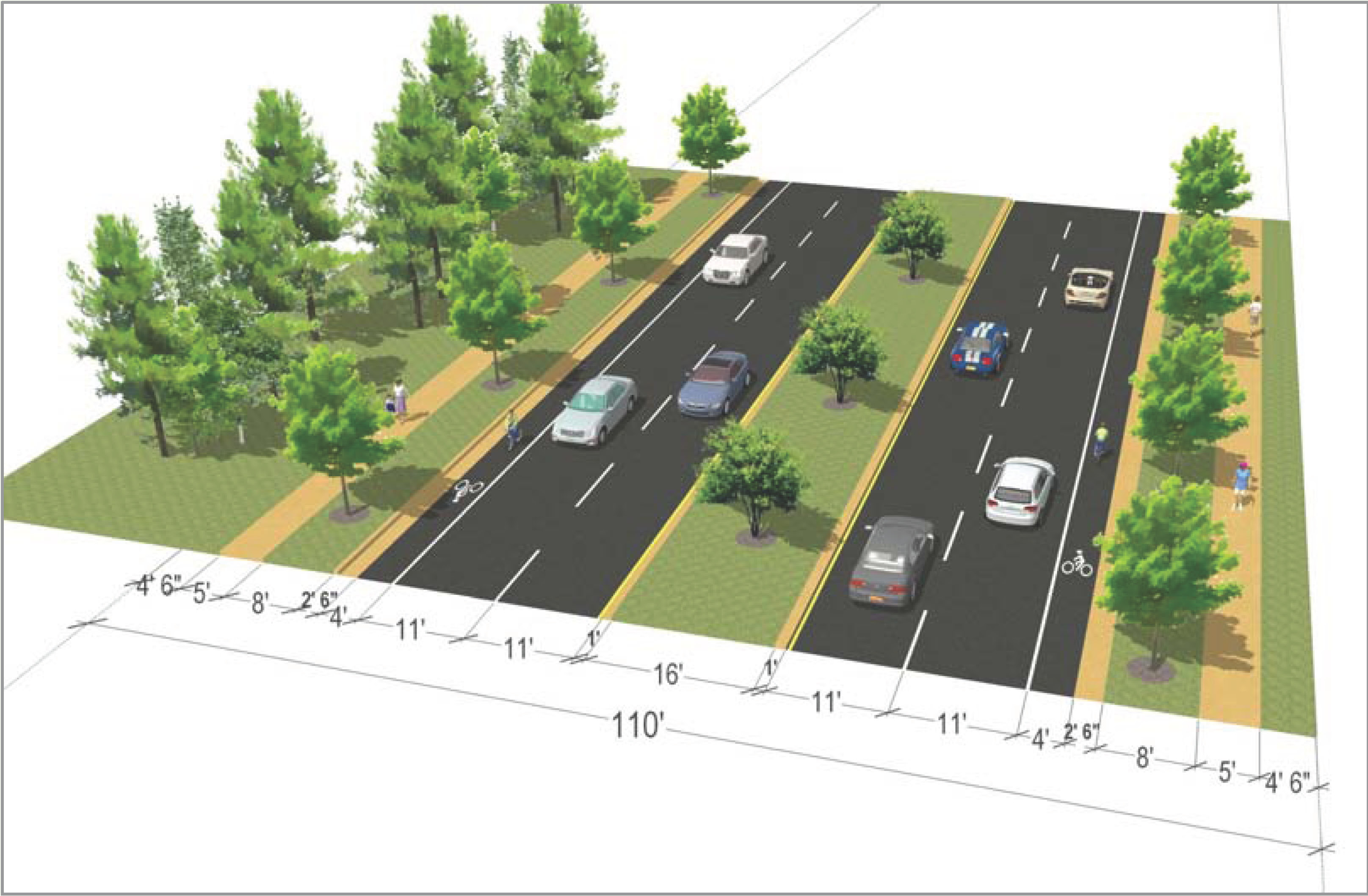 Roadways
Planners study the relationship of roadway corridors and activity centers, the functional classification of roadways, corridor operations at various levels of volume and capacity, as well as traffic safety and crash history. The challenges facing the future of the transportation network in Wake Forest are the collective result of sustained growth, continued reliance on the automobile for short trips, and increasing competition for limited transportation funds. One potential solution to this challenge is a complete street. Complete streets is North Carolina's approach to an efficient multi-modal transportation network that safely accommodates the access, mobility and safety needs of motorists, transit users, bicyclists and pedestrians of all ages and abilities. In Wake Forest, the complete street design would complement access and mobility requirements of the major and minor thoroughfares. In addition to improving and expanding our existing road infrastructure, we will increase the number of bicycle and pedestrian facilities.

Traffic Alerts
Keep up-to-date on road closures affecting our area with our real-time traffic alerts.

Greenways
Greenways are an important part of the Town of Wake Forest's Open Space & Greenways Plan, updated in 2009. Greenways answer the growing public demand for safe and pleasant ways to travel about the town and offer many benefits. The town's first greenway was constructed in 2003. Currently there are eight miles of developed and 50 miles of undeveloped greenways in the Wake Forest system, with more greenways being built every year. Greenway corridors are prioritized to meet economic and transportation objectives.
Transportation Planning Manager