Report a Power Outage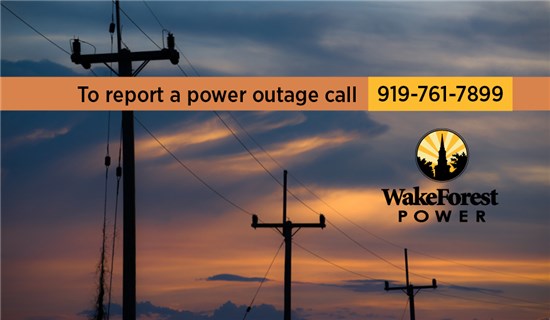 Wake Forest Power makes it easy for customers to report electric outages and stay informed about power interruptions in their area through its Outage Management System (OMS).
The highlight of the initiative is an automated outage reporting telephone number: 919-761-7899.
Customers need only to call 919-761-7899 and follow the prompts to quickly notify Wake Forest Power that their electricity is out. As an added bonus, customers disconnected due to non-payment who call the number hear an automated message explaining the reason for their electric service interruption.
When a customer calls the outage reporting number, the OMS attempts to identify the telephone number from which the customer is calling and match that number to their account. As long as Wake Forest Power has the number in its system, the OMS will recognize the customer. If Wake Forest Power does not have the number, or if the number on file is wrong, information pertaining to the customer's account will not be found.

Accurate Contact Information Needed
Wake Forest Power is asking customers to make sure they have provided accurate contact information. More specifically, customers are asked to register up to two phone numbers associated with their account.
For example, you may want to consider providing your home number and a cell phone number. These telephone numbers need to be the ones you will use when calling to report an outage.

How to Update Your Contact Information
Wake Forest Power customers can update their outage phone numbers by calling customer service at 919-435-9478 during normal office hours (Monday – Friday, 8 a.m. to 5 p.m.).

Benefits
Having updated emergency outage phone numbers will provide on-call employees with an automatic glance at all the known information concerning a customer's account, including name, address, account number, map number, substation, meter number and line section.
When customers call to report service interruptions, this information will be provided to electric crews to ensure faster response time and enhanced troubleshooting capability.