Joyner Park Trails
---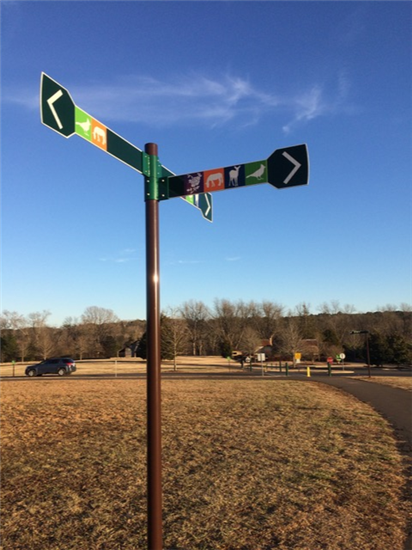 In 2018 the Town of Wake Forest installed new signage at its parks and greenways. The initiative was approved as part of the 2014 Greenway Improvements Bonds.
At E. Carroll Joyner Park, 701 Harris Road, the Town installed wayfinding signage that utilizes symbols previously associated with each park trail. Those symbols and a description of the corresponding trails are provided below.
Garden Loop (Flower) - 0.5 mile
Perfect for a short stroll, this half-mile route takes you around the landscaped center of the park. Enjoy the sounds from the amphitheater while cooking your burgers on the convenient grill. Enter the shady canopy of the Pecan Grove and watch for busy squirrels in the fall and daffodils in the spring. Gaze over the stone wall at the East Meadow where wildflowers grow in abundance. Take a detour and visit the formal gardens.
Field & Garden Loop (Donkey) - 1 mile
This gentle one-mile loop takes you to the highest spot in the park where on a clear day you can see the tall spire of Binkley Chapel rising above the treetops in the distance. As you enter the shade of the pecan grove, let the stone wall be your guide as it leads you along the meadow's edge to the high spot in the west meadow. Watch for butterflies and rabbits crossing your path between the meadow and the forest.
East Meadow Loop (Deer) - 1.4 miles
Wrapping around the eastern edge of the park, this 1½ mile loop provides a first-hand view of the East Meadow. Enjoy a great view across the pond as the trail passes over the dam. As you approach a tributary of Richland Creek, look over the bridge sides to see stream life. Pass through the ever changing landscape of the ephemeral creek and admire the magnificent beech tree at the northeastern corner of the property.

West Meadow Loop (Bird) 1.6 miles
The West Meadow Loop circles the farm buildings and allows you an up close view of the stunning stone wall . Enjoy shaded stretches of trail through the heavy tree canopy of the mixed forest where many species of birds can be observed. The trail follows the western edge of the park offering peek-a-boo views of the pond. Pass through a pine grove before exiting the shelter of the woods into the west meadow.
Farm Loop (Chicken) 2.2 miles
Circling the perimeter of the property, the park's longest trail allows you to experience a variety of spectacular views. Pass through the streamside woodlands, along the southern edge of the pecan grove, across the high meadows and through the heavy tree canopy of the mixed forest while sneaking views of the pond. This trail shows you the magnificent natural beauty of E. Carroll Joyner Park.