Brick Paver Inscriptions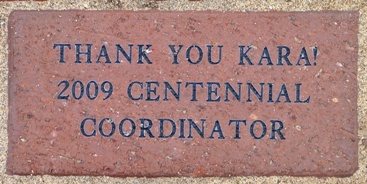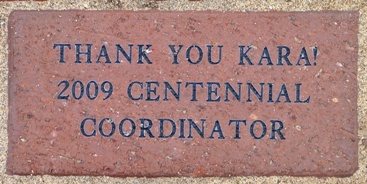 A special thanks to all the businesses, civic organizations and residents that have purchased an engaved brick paver. The pavers shown below have been installed in Centennial Plaza - located just outside the new Wake Forest Town Hall - to be viewed and enjoyed by residents and visitors for years to come.
If you're interested in purchasing a brick paver, it's not too late! Purchase your own 4" x 8" engraved brick paver today for only $125.
For more information, contact Bill Crabtree at 919-435-9421 or visit Town Hall located at 301 S. Brooks St.
Please note: The names in bold denote the individual who purchased the paver and will NOT be engraved on the paver.
Arnold Palmer

ARNOLD PALMER
WAKE FOREST
CLASS OF 1951

Barbara Ortiz

THE ORTIZ FAMILY
DAN, BARB,
ELAINE AND DAVID

JoAnn H. Rogers

JOANN H ROGERS AND
KENT, CAROLYN AND
STACEY ROGERS

Ramey Kemp & Assoc

RAMEY KEMP & ASSOC
TRANSPORTATION
ENGINEERS

Barbara Ortiz

BOB & WANDA BISTOK
PROUD GRANDPARENTS
OF ELAINE & DAVID

Jocelyn Colosanti

NICK AND JOCELYN
COLOSANTI

Scott Anderson

PATRICIA SIRY
SCOTT ANDERSON
SEPT 2008 3X30

Hope N. Newsom

HOPE N. NEWSOM
COMMISSIONER
1987 - 1991

Kevin & Jennafer Newbury

KEVIN & JENNAFER
IAN SETH FELICITY
NEWBURY EST WF '05

Dawn Daria

DON DARIA
70 YEARS OLD
AND STILL RUNNING!

Hope N. Newsom

HARVEY R NEWSOM
POLICE CHIEF
1963 - 1987

Linda Burrrell

SUNFLOWER STUDIO
& GALLERY

Mario Napolitano

CREATIVE SHEARS
HAIR STYLING
M&M NAPOLITANO

Eugene R. Wooster

IN LOVING MEMORY
RICHARD & HARRIET
ZIRKEL

Rotary Club of WF

FEED THE WORLD
ROTARY CLUB OF
WAKE FOREST

James & Michelle Najarian

THE NAJARIANS
EST. 2007
WAKE FOREST, NC

Eugene R. Wooster

IN LOVING MEMORY
CHADD W. WOOSTER
GRANDSON AGE 20

JoAnne Kroesen

HAPPY ANNIVERSARY
F & G CONINGSBY
MARRIED 09-04-1949

The Savage Family

THE SAVAGE FAMILY
JIM DIANE NICK
MOE MIKE VICTOR

Eugene R. Wooster

IN LOVING MEMORY
EUGENE & RUTH
WOOSTER

David & Margaret Shearon

J. LEONARD SHEARON
FAMILY
OLA JACKSON FAMILY

Susan Simpson

YOUTH ADVISORY
BOARD
2008 - 2009

Timothy Nau

WITHERS & RAVENEL
ENGINEERS
SURVEYORS PLANNERS

Eve Gentile

ERIC DIAMOND
PHE & EVE GENTILE
LIVE HERE IN 2009

Nancy Tebeau

KIM MARSHALL
1951 - 2008
WAKE FOREST FIRST

Barbara Lyon

JOHN D LYON
MAYOR
1971 - 1975

Chad Sary

THE SARY FAMILY
CHAD, TRACY,
BEN AND NICHOLAS

Martha Loftin

WAKE FOREST
WOMAN'S CLUB
EST. 1961

Nora R. Dickens

PAUL TRUMAN
HARRELL DDS
06/23/14 - 07/05/58

Roe O'Donnell

ROE O'DONNELL
KAREN O'DONNELL

Laura W. Kilian

BOOK CLUB
STUDIOSA
ESTABLISHED 1950

Nora R. Dickens

CARL WESLEY
DICKENS DDS
07-30-26 03-06-04

Leah Dey

THE DEYS ARE HERE!

Eric Keravuori

ERIC LORI
JOSH KATIE ZACK
KERAVUORI

Wilbur Smith Assoc

WILBUR SMITH ASSOC
ENGINEERS PLANNERS
AND ECONOMISTS

Leah Dey

PURRFECT HONORS
TO DR. KIM

Linda Green

GREEN-EST-06-16-07
PAUL-AND-LINDA
BUCK-POCONO-PEPPER

Sharon Macsuga

IN MEMORY OF
ALEX MACSUGA
1943 - 2008

Yuan Qiu Ni

PANDA KING
3626 ROGERS ROAD
WAKE FOREST 5549666

Mike Cullen

THE CULLEN FAMILY
MIKE, MICHELE,
SHANE, AMANDA

Harolyn Whitehead

HAROLYN WHITEHEAD
LEON WHITEHEAD
OUR TOWN SINCE '86

Bruce McKim

MCKIM
BRUCE & ELLEN

WF Kiwanis Club

WAKE FOREST
KIWANIS CLUB
EST 1987

Mavis Newsome Dew

OR DEW WF FEDERAL
CHAIRMAN DIRECTOR
FRIEND TO EVERYONE

Scott Miles

SCOTT, ADRIANNE,
ZAC & JAKE MILES
JOSHUA 24:15

Janis Underwood

DR NASH UNDERWOOD
JANIS UNDERWOOD
1948

Julie Arthur

THE ARTHURS
LOUIS AND JULIE
GENA AND ELLEN

Sherry Winstead

LUCILE C. WRIGHT
TABOR CITY, NC
1939-40 WF COLLEGE

Janis Underwood

STEPHEN C. GOULD
JUDY U. GOULD
1974

Debbie Volpe

SYLVIA A. MAGI AND
EDWARD P. JOHNSON
WE LOVE YOU ALWAYS

Hallie Hearn

T M ARRINGTON
FIRST CHIEF
WF FIRE DEPARTMENT

Lauren Smith

TO FRANK AND CAROL
SMITH WITH LOVE
FROM YOUR FAMILY

Keith Shackleford

IN MEMORY OF
ESTHER & WILLIAM
LEE SHACKLEFORD

TerraTech Engineers

TERRATECH
ENGINEERS, INC

Tory Hamilton

ELIZABETH JOHNSON
THE COTTON COMPANY
CHRISTMAS 2008

Becky Sherron

IN MEMORY OF
MARVIN LEWIS
SHERRON

Jeff Keller

THE KELLERS 2009
JEFF, SUZIE
JACOB & JONATHAN

Caroline McHugh

ED AND SUE OSBORNE
LOVE ZIMMER HAYLEY
AND KILLIAN 2008

Wanda & Subir Mukherjee

WADE-MUKHERJEE'S
SUBIR - WANDA - JAKE
VIK - KIERAN 2009

Appian Consulting Engineers, PA

BOBBY L. JOYNER
APPIAN ENGINEER
ROCKY MOUNT, NC

Betsy Phillips

BETSY & TAL
PHILLIPS

Barbara Massenburg

OAKFOREST
CIRCA 1807

Leah L. Dey

THE FAMILES OF
OSADCHUK, SHEVCHUK
AND LUKASH

Jason Weathers

WAKE FOREST
BOYS & GIRLS
CLUB

Beverly Ann Lynn

CHIEF FREDDY LYNN
ANN LYNN
WF FIRE DEPT

Roger Henderson

WF TRANSPORTPLAN
THANKS CHIP RUSSELL
PLANNING DIRECTOR

Michael Barton

THE BARTON'S
MIKE AND MICHEALLE

John and Joanne Mills & Mary Wiggins

IN MEMORY OF
OFFICER
JOEY MCRAE WIGGINS

Rebecca Mandigo

IN LOVING MEMORY
DAVID JOHN MANDIGO

Willis H. Winston

WILLIS
HOLDING
WINSTON

Jason Panciera

CAWTHORNE, MOSS
& PANCIERA
LAND SURVEYORS

Buddy & Claudia Shows

THE COPELAND,
OWNBY, SHOWS AND
SUMNER FAMILIES

Einar Bohlin & Karen Diebolt

HAPPY 100th!
FROM EINAR BOHLIN
AND KAREN DIEBOLT

Hallie Hearn

T M ARRINGTON III
CO-FOUNDER SR CTR
DEDICATED CITIZEN

Michelle Poppe-Rockwell

IN LOVING MEMORY
LARRY RUTTER
1938-2009

Hallie Hearn

DOROTHY ARRINGTON
DEVOTED WIFE,
MOTHER, CITIZEN

Karen Tharrington

IN MEMORY OF
DR & MRS W.R. CULLOM
DR & MRS C.C. PEARSON

Kenille Baumgardner

BRANSON & NORMA
PROSSER & CHILDREN
BY MAMMA NILLE

Michele Buddo

JAMES S - MARION E
BUDDO, JR
CHRISTMAS 2008

Michele Buddo

BILL AND EDWINA
NAUJOKS
FAMILY LOVE

Jason & Hana Franco

JASON&HANA FRANCO
LEEANN FAWZI
NICOLAS 2009

Mike & Diane Connell

MIKE, DIANE, TABITHA
CONNELL IN WF
SINCE 12/13/01

Melanie Bell

BELL FAMILY JE 33:3
LAUREN & EMILY
MARTIN & MATTHEW

Pete & Joy Schmutz

PETE & JOY SCHMUTZ
FOREVER AS ONE
APRIL 10, 2003

Wayne Sadlowski

SADLOWSKI FAMILY
WAYNE,MARIELLE,WES
MO,BRENDON,MATTHEW

Jason Pace

KIMLEY-HORN
AND ASSOCIATES INC

Ron Wilson

MARGARET WILSON
9/5/1946-5/30/2008
LOVE FOREVER-RON

The Waterfall Book Club

THE WATERFALL
BOOK CLUB
ESTABLISHED 1999

Karen Gibert

GO BROWNS!
2009
KAREN GILBERT

Karen Gibert

LIVE**LAUGH**LOVE
KAREN GILBERT
2009

Charles Martin

MEDIA GURU
COMMUNICATIONS
EST. IN 2003

Hope Lutheran Church

HOPE LUTHERAN
CHURCH
WAKE FOREST

Sharon Woodlief

GENE SHARON ERIKA
AND BRAD WOODLIEF
GLEN ROYAL VILLAGE

Sharon Woodlief

MATTIE ALFORD
GLEN ROYAL VILLAGE

Sharon Woodlief

THELMA AND LINDA
TANT
GLEN ROYAL VILLAGE

Sharon Woodlief

MORTON AND MABEL
HARDING
GLEN ROYAL VILLAGE

Cheryl Lynam Lockamy

VANCE AND IRENE
LYNAM
GLEN ROYAL VILLAGE

Ryan Bagwell

RYAN BAGWELL
STATE FARM
INSURANCE

Henry Wright

WILLARD C. WRIGHT
WFC 1934-1940
TABOR CITY, NC

Melanie Bell

WAKE FOREST FAMILY
EYECARE EST. 1985
DR. KEVIN BELL

Chuck & Leslie Rice

RICE GENERAL
CONSTRUCTION, INC.
EST. 1989

Stephen & Frances Brown

STEPHEN & FRANCES
BROWN
HAPPY ANNIVERSARY

Joyce Davis

LEWIS, JOYCE DAVIS
SUZANNE D TULL
NANCY D RACKLEY

Brenda Austin

MEG & ZOE MATTHEWS
KAYLEE SHAFFER
GANNY'S GIRLS

John & Pamela Shaffer

SHAFFER "ZOO"
JOHN-PAMELA-KAYLEE
EST. OCT. 11, 1997

Ruth Bunn

GOD BLESS WAKE
FOREST & THOSE WHO
CALLED HER HOME

Ruth Bunn

GROVER AND MARIE
ALFORD AND FAMILY
PAM LEE PAT SUANNE

Ruth Bunn

IN HONOR OF
JOE & RUTH BUNN
GROVER&OZA ALFORD

Barrett Parker

BARRETT, LESLIE,
MEREDITH, SCOTT,
& DANIEL PARKER

Mike Robbins

WAKE FOREST
CROSSING
KAHN DEVELOPMENT

Jennifer Jones

THE SUTHERLAND
ESTATE & GARDENS
EVENT VENUE

Heaton Construction

HEATON
CONSTRUCTION
INC.

Jane Wright

THOMAS WRIGHT
ELECTRIC MOTOR
SHOP

Jane Wright

THELMA WRIGHT
OUTSTANDING
CITIZEN

Jane Wright

CHASE HICKS
ELECTRIC MOTOR
SHOP

Jane Wright

CHANDLER HICKS
ELECTRIC MOTOR
SHOP

Jane Wright

RICKY WRIGHT
"BIG DADDY"
ELECTRIC MOTOR SHP

Hollie Hicks

JANE WRIGHT
"NANA"
ELECTRIC MOTOR SHOP

Jane Wright

HOLLIE AND JIMMY
HICKS
ELECTRIC MOTOR SHP

Jane Wright

MARGARET LLOYD
"MEMA"

Lisa Shockley

THE
SHOCKLEY FAMILY
2009

Agnes Wanman

AGNES WANMAN
AKA 'EHEDIYA'
GYPSY OASIS TROUPE

Beverly Whisnant

SUSAN MAGGIE ALLIE
SUZANNE STEVE AND
BEVERLY WHISNANT

Dr. Eugene Shapiro

THE RICHARD MAXEY
MEMORIAL
BOOK CLUB

Chip Russell

THE RUSSELLS
CHIP AND NICOLE
HENRY AND HARRY

Suzanne and John Michaels

PREMIER CONTROL
SYSTEMS, INC.
MICHAELS FAMILY

Paul and Becky Ballance

BALLANCE FAMILY
PAUL & BECKY
LOVE FOREVER 1984

Kay Mighells

KAY MIGHELLS
TOWN EMPLOYEE
2000-2009

Timothy Nau

THE NAU FAMILY
TIMOTHY, AGNIESZKA,
NATHAN & DANIEL

Nancy Massey

WAKE TIRE SERVICE
WORLEY MASSEY

Bill & Carol Weeks

THE WEEKS FAMILY
BILL, CAROL,
CONOR AND MAKENZIE

Matthew Hale

HALE FAMILY 1991->
MATT, TERESA, KAT,
ANDREW & CHARLOTTE

Thomas Harris

HARRIS
STRUCTURAL
DESIGN

Worth Joyner

WORTH B. & GAIL H.
JOYNER
DECEMBER 15, 1974

Kim & Jon Marx

IN LOVING MEMORY
OF JOHN A. MARX
1934-2009

Dana & John Iapalucci

THE IAPALUCCI'S
JOHN, DONNA
PAIGE & ALI

Wake Forest Garden Club

WAKE FOREST
GARDEN CLUB
ESTABLISHED 1924

Loretta Paratore

THE CALI FAMILY
MATT,LORI,JENNIFER
AND CHRISTOPHER-99

Theresa Riggins

THERESA
RIGGINS

Becky Dickerson

IN MEMORY OF
WILLIAM DICKERSON
BECKY BILL & JILL

Miguel DeLagado

*DELGADO FAMILY*
**MARIANAO CUBA**
MANM-JEE-RHO

Capitol Pediatrics

CAPITOL PEDIATRICS
AND
ADOLESCENT CENTER

Franklin Academy Band

HONORING LISA BURN
FOUNDER & DIRECTOR
FA BAND PROGRAM

Sandra Jean LaBarbera

SANDRA JEAN RE/MAX
LABARBERA UNITED
919-418-2400 WFRES

J. Scott Lane

LOUIS BERGER GROUP
BICYCLE PLAN 2008
RIDE FOREVER

Cas Edmunds

THE
CAS EDMUNDS
FAMILY

Jennifer Talley

IN HONOR OF
ROD & NANCY BYARD
BY THEIR DAUGHTERS

Saint Catherine of Siena

ST CATHERINE SIENA
CATHOLIC CHURCH
AND SCHOOL

Lee Darch

DARCH FAMILY
LEE DARCH DVM

Angela Perez

WAKE ELECTRIC
THE POWER TO MAKE
A DIFFERENCE

Bass, Nixon & Kennedy, Inc.

BASS NIXON KENNEDY
CONSULTING
ENGINEERS

CL Ross

C.L.ROSS MARY ROSS
SYDNA L. ROSS
MARTIN L. ROSS

Elizabeth Potts


TOU

Patty Miller

JOSEPH P. MOORE
BETTY D. MOORE
LUV PAT & DIANNE

Jimmy & Amanda King

THE KING FAMILY
JIMMY AMANDA CHLOE
WAKE FOREST C.2007

The Lodge at Wake Forest

THE LODGE
AT WAKE FOREST

Jamie Zinn

KELLY EYE CENTER
FOR SIGHT - RALEIGH,
WAKE FOREST NC

Rhonda Alderman

THE ALDERMAN'S
RHONDA, JAKE
JUSTIN & CHELSEA

Teresa Harris

DR&MRS JIM HARRIS
WAKE FOREST NC
SINCE 1996

Candace Davis

THE DAVIS FAMILY
CORAY, CANDACE &
CAMERON~PROV.3:5,6

Cynthia Thurman

CYNTHIA AND JIM
THURMAN
SEIZE THE DAY

Bob & Barb Davis

THE DAVIS FAMILY
BOB AND BARB
EMILY,JACK,CHARLIE

Jeffrey Morrison

STROUD PENCE ASSOC
STRUCTURAL
ENGINEERS

Dr. Buddy Hollowell

DR. BUDDY HOLLOWELL
PEDIATRIC DENTIST
EST. 2008

Corporate Chaplains of America

CORPORATE
CHAPLAINS
OF AMERICA

Cammy & Mark Mullen

IN LOVING MEMORY
THRAUDY & UNA
LLOYD

Louis Mullinger

EDWARD JONES
INVESTMENTS

Dana Hale King

IN LOVING MEMORY
OF
DON & IDA J. HALE

Amy Snow

THE SNOW FAMILY
TOM, AMY, HANNAH,
JORDAN & MORGAN

Mark Williams

MARK DIANNE ALAN
& SARAH WILLIAMS
CHRIS GRIFFIN

Shawn Phelan, DC, FICC

DR. SHAWN PHELAN
WAKE FOREST
CHIROPRACTIC

Sarah Bridges

WILLIAM L (BILL)
GLENN BARDEN
GLOVER

Stella Daniska

IN LOVING MEMORY
RUFUS H. FORREST
STELLA P. FORREST

J. Lloyd Stone

J. LLOYD STONE
IN MEMORY OF
PEGGY ANN STONE

Michelle Aldrich

BRYAN AND MICHELLE
BRAYTON, KALDEN,
AND KEELY ALDRICH

Capital Bank

CAPITAL BANK

Jeane Stanevich

IN LOVING MEMORY
OF POP POP JAX &
CADEN CAMPOLMI '09

Signe Marwede

EMILIE AND
BENJAMIN
LANHAM

Kathryn Phipps

THE PHIPPS FAMILY
MIKE KATHRYN CHRIS
HARRISON MEREDITH

Louise C. Howard

IN MEMORY
JOHN L. CLARK
LIONS GATE INN

Louise C. Howard

LIONS GATE INN
BILL-LOUISE HOWARD
2003

Susan Kunz

OUR ANGEL
LINDA L. ALDRIDGE
1961-2009

Bonnie Rodgers

WE LOVE YOU
AUNT LINDA
FOREVER

CLH Design, PA

CLH DESIGN PA
CONGRATULATIONS TO
100 GREAT YEARS

Dr. Jason T. Gladwell

GLADWELL
ORTHODONTICS

Stacy Gordon

LAUREL GORDON
MARCH 3, 2009
9 LBS., 6 OZ.

Gloria Lopez

REX HEALTHCARE
OF
WAKEFIELD

Kevin Sisk

THE SISK FAMILY
KEVIN-SHARON
DAWSON

Steve Jarrell

STEVE & SUSAN
JARRELL

Steve Jarrell

JARCO SUPPLY

Janette Farnsworth

IN LOVING MEMORY
RUBY HARDEE CLEARY
MOM & BEST FRIEND

Beth Murray

BARBARA AND
JOHN LYON-CITIZENS
OF THE YEAR 1990

Paul Parker

TOM & RUBY PARKER
TOM, JR. & STEVE
DILLON & CHRISTIAN

Corcoran Family

PEACE BE UNTO YOU
THE CORCORANS
ROMANS 8:38-39

Wake Forest Yoga

WAKE FOREST YOGA
CELEBRATE LIFE
LOVE AND NAMASTE

Beth Jones

BETH & TERRY JONES
DUSTIN JAMIE
NOELLE & BRAXTON

WF Junior Woman's Club

WAKE FOREST JUNIOR
WOMAN'S CLUB
EST. 1977

Robert & Linda Rigda

THE FAMILY OF
ROBERT & LINDA
RIGDA

W.E.B. DuBois CDC

WEB DUBOIS
COMMUNITY DEV. CORP
SERVING SINCE 2006

Melissa Damann

THE DAMANN-MELDAU
FAMILY

Melissa Damann

WE LOVE GRANDMA
RHODA & PAPA FRANK
JULIAN COCO DYLAN

Rick Cary, Jr.

THE CARY FAMILY
RICK, BARBRA AND
MADELINE 2009

Steve Bridges

IN MEMORY OF ELMO
AND LENA BRIDGES
BY BRIDGES FAMILY

Wake Forest Elementary PTA

WAKE FOREST
ELEMENTARY
GT MAGNET SCHOOL

Suzanne Erskine

JOHN G. MILLS, SR.
MAYOR 1917-1925
BY HIS FAMILY

Linda Boylorn

IN MEMORY OF EULA
BOYLORN 1905-2006
JOE&LINDA BOYLORN

Chris Kaeberlein

THE KAEBERLEINS
CHRIS, STEPHANIE,
JACK & MADELYN

David Foster

THE FOSTERS
DAVID CARRIE
JOHN KATHERINE

Emma Brown

IN MEMORY OF
GEORGE L BROWN JR
1934-2008 & FAMILY

Nicholas & Denise Macenas

THE MACENAS
FAMILY
2003

Raymond Schmitz

SCHMITZ FAMILY
1993

Sonja Darr

LESLIE G JR
SONJA B DARR

Heather Holding

AL, MARTHA, KARA
AND HEATHER LOFTIN
TO WF JAN 1986

Heather Holding

HARVEY HOLDING
(MAYOR 39-47) AND
NANCY S. HOLDING

Heather Holding

HOLDING OIL & GAS
EST 1935

Heather Holding

JAMES, HEATHER,
LAUREN, & RACHEL
HOLDING

Mary Evelyn Jones

MARY EVELYN JONES '28
DU BOIS SCHOOL '47
OLIVE BR. BPT. CH.

Recca Nelson

FRED AND RECCA NELSON
AND FAMILY

John E. Wooten, Jr.

JOHN E. WOOTEN JR
WFC 1943 WWII
WOOTEN AGENCY 1953

Susan Althoff

COUGAR PRIDE
SUSAN, MANDY AND
CARRIE ALTHOFF

Elizabeth Bartholomew

IN MEMORY OF
JAMES BARTHOLOMEW
LIB AND CHILDREN

Pam Jay

NEXT CONSIGNMENT
210 S WHITE ST
LOVES DOWNTOWN WF

James Savage

THE SAVAGES 2009
JAMES, CARLENE
MADISON AND ULI

James Savage

MADISON A SAVAGE
NOW IT BEGINS 2009
LOVE DAD

Neuse Tile Service, Inc.

NEUSE TILE SERVICE
PARTNERS IN PAST,
PRESENT, & FUTURE.

Alison Gratton

THE GRATTON'S 2009
RICK & ALISON
PHOENIX & TALON

Alison Gratton

THE HICKS FAMILY
GILLIAN & MARTIN
2009

Don & Mary Daria

THE
DARIA
FAMILY

Grady Stephens

THE STEPHENS
GRADY MARY LOU
MARK AND MELISSA

Brian Wessler

WESSLER FAMILY
2/14/2008
EST. RESIDENCY

Charleston Management

CHARLESTON
MANAGEMENT

Robert Pitney

THE PITNEY FAMILY
ROBERT, JENNIFER
AND RYAN

Traci Lopez

FRANKLIN ACADEMY
LOVE AND GRATITUDE
THE LOPEZ FAMILY

L. Brett Wells

WELLS
FAMILY
DENTISTRY

Moore & Johnson Agency

MOORE & JOHNSON
INSURANCE AGENCY
SINCE 1924

Wake Forest 4th of July Committee

WAKE FOREST
4th OF JULY
COMMITTEE EST '72

Prominence Homes - Bob Polanco

BEST WISHES FOR
SECOND 100 YEARS
PROMINENCE HOMES

Ammons Development Group

AMMONS DEVELOPMENT
HERITAGE
THE HERITAGE CLUB

Ron Wojcik

IN MEMORY OF
JUDY WOJCIK
WIFE MOM & GRANDMA

Jean McCamy

THE
MCCAMY
FAMILY

Mary Stephens

HOLLOWELL'S
JESSE 1906-1965
HELEN 1913-1998

Wyrick Robbins Yates Ponton LLP

WYRICK ROBBINS
YATES & PONTON LLP
TOWN ATTORNEYS

Todd & Clellie Allen, Jimmy & Ginger Allen

BOB & PEGGY ALLEN
THE WAKE WEEKLY
PUBLISHERS 1952-97

Erika Smythe

THE ISLER FAMILY
2009

Robert Bishop

LITTLE DIVERSIFIED
ARCHITECTURAL
CONSULTING

Franklin Drake

THE DRAKE FAMILY
FRANK KATHRYN
ANNA & BENJAMIN

Don & Nancy Bates

DON & NANCY BATES
OUR COMMUNITY
SINCE 1988

Joey Elias

GIVEN IN HONOR OF
MY LOVING MOTHER
SHERYL N CLARK

Joey Elias

DEDICATED TO
AL VALLEY
HEATON CONST. INC

Jonathan Hildebrand

JONATHAN & JOSEPH
HILDEBRAND
WF-R 2001 & 2004

CCS Equipment

CCS EQUIPMENT
SALES, LLC
WAKE FOREST, NC

Wake Forest Civitan Club

W.F. CIVITANS
"BUILDERS OF GOOD
CITIZENSHIP"

Wake Forest Acoustical Corp.

WF ACOUSTICAL
CORPORATION
ESTABLISHED 2001

Hallie Hearn

HALLIE &JOHN HEARN
LIVING IN HISTORY
& LOOKING FORWARD

Tricia Lanning

LONNI AND TRICIA
MAHONEY
JUNE 26, 2009

Tricia Lanning

KRISTEN,PATRICK &
BRYCE LANNING,CRU
& HARLEIGH MAHONEY

Julie Ryan

THE BROWN, RYAN,
AND SZCZYPINSKI
FAMILIES SAP2009

Clay & Karen Kimrey

CLAY H. KIMREY
KAREN GOSS KIMREY
30 JUNE 2004

Aileen Staples

THE STAPLES FAMILY
JIM AILEEN JAY
ALISON & CAROLINE

Karen Romanchek

RELAXATION STATION
MASSAGE THERAPY
DE-STRESS, LET GO

Karen Romanchek

REV.L.W. & GENEVA
WORLEY 20 YEARS OF
MINISTRY 1966-1986

Jim & Rose McCabe

JIM & ROSE
MCCABE
WAKE FOREST 2009

Eric Vernon

ELLIS NASSIF
TOWN ATTORNEY
1964-1991

Bob & Sandy Peckham

BOB&SANDY PECKHAM
WAKE FOREST NC
SINCE 2003

Sarah Williams

MARK WILLIAMS
TOWN MANAGER
HAPPY FATHER'S DAY

Amy & Lucas Biggers

THE BIGGERS FAMILY
LUCAS & AMY
LEXI & SYDNEY

Vickie Caudle

THE CAUDLE FAMILY
GREGORY & VICKIE
RHAHEMEDE'SHAUNTE'

Gene McLeod

GENE & BETH MCLEOD
ANN, GWEN, CLAIR
OUR TOWN SINCE '64

David & Ivy Pesa

IN LOVING MEMORY
SOPHIA ROSE PESA
OCTOBER 10, 2004

Jim Dyer

WE LOVE
WAKE FOREST
JIM&RUTH ANN DYER

Jim Dyer

WAKE FOREST FARMS
THE SMITHS LILLY
KENT & MEREDITH

Jim Dyer

LILLY HAYDEN SMITH

JUNE 11, 2003

Jim Dyer

JONATHAN C DYER
FEB 22, 1984

Dr. LaRee Johnson

BEST GRANDPARENTS
ILENE & LARRY
WYATT

Dr. LaRee Johnson

JAMES & LAREE
MAY 6, 2000
1 CORINTHIANS 13

Dr. LaRee Johnson

MIA & JAMIE
THANKS FOR BEING
AMAZING CHILDREN

Dr. LaRee Johnson

MAY ALL CHILDREN
SMILE
DR. LAREE JOHNSON

Branson Prosser

JULIAN B. PROSSER
TOWN ADMINISTRATOR
1971-1980

Prosser, Branson & Norma

MAMA NILLE-KENILLE
WE LOVE YOU!
LIZ, JULIAN, DYLAN

Ben Naprstek

NAPRSTEK FAMILY
ESTABLISHED 2003
HOKIES FOR LIFE!

Margaret Stinnett

RICHARD & MARGARET
STINNETT

Margaret Stinnett

JONES HARDWARE CO.
WAKE FOREST NC
1906-2005

Bonnie Johnson

BEN JOHNSON FAMILY
BEN BONNIE JERRY
JENNIFER KRIS

Michael Sattler

IN LOVING MEMORY
OF
WILLIAM C SATTLER

Anissa Brunner

WAKE FOREST
WAL-MART
SUPERCENTER

Glenda Overstreet

THE OVERSTREETS
CHARLES & GLENDA
WF 1972-1979

Janis Underwood

LORI & MARTIN
UNDERWOOD
1954

W.E.B. Alumni

ALUMNI ASSOCIATION
W.E.B. DUBOIS H.S.
1922-1970

The David Cooke Family

IN LOVING MEMORY
JESSIE Q. OTTLEY
MARCEL W. OTTLEY

The David Cooke Family

IN LOVING MEMORY
NANCY LEE KITCHIN
-D. COOKE FAMILY-

The David Cooke Family

IN LOVING MEMORY
SUSAN B. COOKE
JAMES D. COOKE, SR.

Utility Service Agency

IN GRATITUDE TO
C. MARTIN NASSIF
UTILITY SRV AGENCY

Utility Service Agency

UTILITY SERVICE
AGENCY
1978

Utility Service Agency

IN LOVING MEMORY
LINDA&BILL NELSON
UTILITY SRV AGENCY

Bill & Ann Haigh

WILLIAM L. HAIGH
MARY A. HAIGH
WAKE FOREST 2004

Ginny Fleming

GINNY & MICHAEL
FLEMING

Ginny Fleming

CAROLINE L CRAFT
HALLIE E CRAFT

Marjie Boal

BELOVED PARENTS&G
PARENTS RUTH & BOB
BOAL VIOLIN RUNNER

R.W. Wilkinson

THE
R.W.WILKINSON
FAMILY

William L. Glover

WILLIAM L (BILL)
GLENN BARDEN
GLOVER

Tera Jackson

C-A-T FAMILY

Michele Barnhart

ERIC MICHELE
AARON JOANNE
BARNHART

Lois Vaught

LOIS&RONNIE
PAM&ROBIN-VAUGHT
GALAX-VIRGINIA

Sharon Woodlief

EARL AND ELSIE MAE
HARDING
GLEN ROYAL VILLAGE

Sharon Woodlief

EVERETT AND KATIE
HARDING
GLEN ROYAL VILLAGE

Sandy Shellenbarger

TAKE CARE UP THERE
MICHAEL R. CRANE
WE MISS YOU