Wayfinding for Parks & Greenways Phase I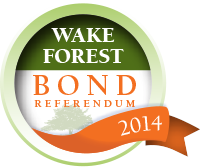 The Town of Wake Forest Parks and Greenways Wayfinding plan establishes an overall signage and wayfinding system to improve visitors' experiences in Wake Forest by assisting them in reaching their desired destination. It will also increase the visibility of the town's parks and greenways system by emphasizing the Wake Forest Parks, Recreation, and Cultural Resources brand and strengthen our community's sense of place.
The Town of Wake Forest currently maintains 12 parks and 13 miles of greenway within the town limits and unincorporated areas. The town identified the need to develop a wayfinding program as a part of its overall vision in both the Parks & Recreation Master Plan and Open Space & Greenways Plan.
Through the use of 2014 Bond Referendum proceeds, Phase 1 signage has been implemented at Smith Creek Greenway at Burlington Mills, Dunn Creek Greenway,Sanford Creek Greenway, Smith Creek Soccer Center and Greenway, E. Carroll Joyner Park, and J.B. Flaherty Park.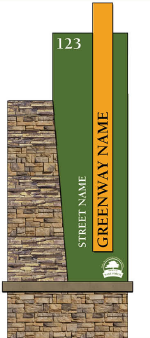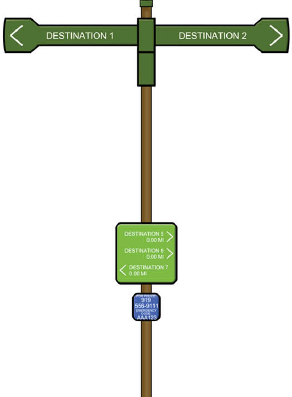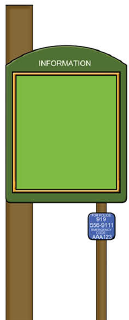 Project Team
Kimley Horn & Associates

Dawa Inc. (Design Team)

Greenways Advisory Board (GAB)

Public Arts Commission (PAC)

Parks, Recreation &Cultural Resources Advisory Board (PRCR)

Town of Wake Forest
Project Timeline
September 15, 2015 - Board of Commissioners Presentation

June 8, 2016 - DRAFT Bid Documents sent into Town for Review

July 8, 2016 - Bid Advertisement submitted to various outlets

August 23, 2016 - Bid Opening, Review & Tabulation

September 15, 2016 - ToWF BOC Awards Construction Contract

October 14, 2016 - Award Notification to selected construction firm

November 2016 - May 2017- Construction Work

June 2018 - Project Completed

Update
2018 - Phase 1- sign implementation is complete at E. Carroll Joyner Park, J.B. Flaherty Park, Smith Creek Greenway at Burlington Mills segment, Dunn Creek Greenway, Smith Creek Soccer Center, and Sanford Creek Greenway