Public Art Vision Plan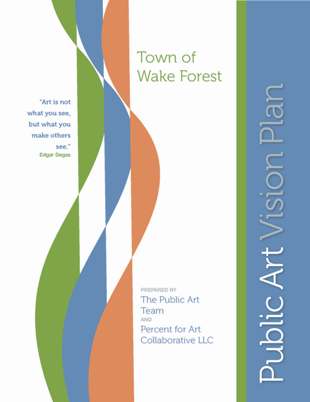 The Public Art Vision Plan was developedwith the assistance of a consultant hired and funded by contributions from local funding partners and a grant from the NC Arts Council.
During the Sept.1, 2009, work sessionof the Board of Commissioners, members of thePublic ArtTeam(PAT) and Town staff presented the draftPublic Art VisionPlan to the Board andshared their wishes for a Wake Forest made beautiful with public art, like a carefully wrapped gift.
The PAT, represented by Barbara Massenberg, Jim Wallace and John Pelosi, referred to the long-term and measured interest Wake Forest's residents have demonstrated in cultural arts,thanked the Board for their part in making Wake Forest beautiful(the walls at E. Caroll Joyner Park, SouthFranklin Street median and roundabouts, and Town Hall) and discussed the economic benefits of having a funded Public Art Program.
The PAT asked the Board to formalize the program by adopting the plan as a guide forworking with artists, making decisions, and fundingpublic art.

The Board of Commissioners asked staff to seek public input and bring the Public Art Vision Plan forward for public hearing.