Demolition of Historic Structures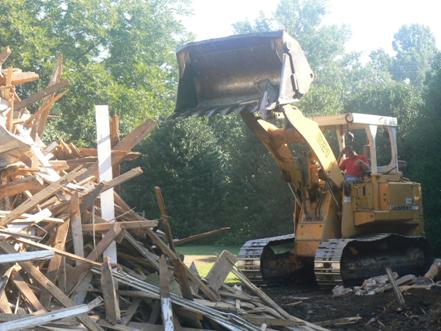 In 2008 the town Board of Commissioners amended the zoning ordinance to require Certificates of Appropriateness for the demolition of all historic buildings throughout the town and its extraterritorial jurisdiction, whether or not those buildings are in a historic district or listed on the National Register of Historic Places.
The intent of these requirements is to provide guidelines and establish requirements for the delay in demolition of historic structures in order to allow time for another option to arise in the effort to preserve and enhance one of the most valuable and unique natural resources of the Town of Wake Forest, and to preserve the property values and promote the general welfare of its citizens.


Historic Buildings
The demolition of historic buildings requires a COA prior to receiving a demolition permit from the town. For this purpose, the term "historic structures" means:
a. Any designated local, State, or national landmark; or
b. Any structure that is:
Individually listed in the National Register of Historic Places;
Individually identified as a contributing structure in a historic district listed in the National Register of Historic Places;
Certified or preliminarily determined by the Secretary of the Interior as contributing to the significance of a registered historic district or a district preliminarily determined by the Secretary to qualify as a registered historic district;
Individually listed in the State inventory of historic places;
Individually listed in the county Register of Historic Places; or,
Individually listed in a local inventory of historic places in communities with historic preservation programs that have been certified by an approved State program (including certified local governments) as determined by the Secretary of the Interior or directly by the Secretary of the Interior in states without approved programs.
Certificate of Appropriateness Required
For any old structure meeting the definition of "historic structure" given above, a Certificate of Appropriateness (COA), issued by the Historic Preservation Commission, is required before any demolition takes place, regardless of whether the structure is located in any historic district or not! The COA may authorize demolition immediately or may delay it for a specified amount of time, up to 365 days.


Demolition Without a Certificate of Appropriateness or in Violation of a COA
In addition to penalties authorized elsewhere, any demolition of structures subject to these regulations, in violation of the COA, or undertaken without compliance with this process shall be prohibited from submitting redevelopment plans for the property for up to 48 months from the date of notice of the violation. The length of the delay will be at the discretion of the Planning Director or his agent, depending on the specific circumstances of the site, structure, and violation.