Easter Egg Hunt
2019 Easter Egg Hunt
Saturday, April 13
E. Carroll Joyner Park, 701 Harris Road
The Wake Forest Parks, Recreation & Cultural Resources Department is hosting its annual Easter Egg Hunt on Saturday, April 13. Presented by Primrose School of Heritage Wake Forest and Bumgarner & Martin Orthodontics the egg hunt will take place at E. Carroll Joyner Park, 701 Harris Road.
In addition to hiding over 10,000 Easter eggs, PRCR will offer Easter-themed arts and crafts activities in the Joyner Park Amphitheater, plus games and a free raffle.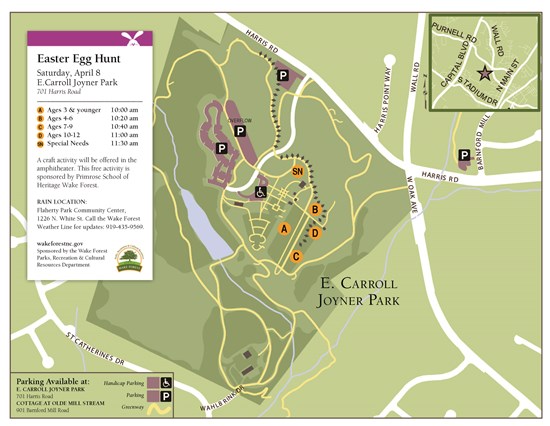 Egg Hunt Times
Ages 3 & younger – 10 am

Ages 4-6 – 10:20 am

Ages 7-9 – 10:40 am

Ages 10-12 – 11 am

Special Needs – 11:30 am

Easter Egg Hunt App
Complete information about this year's Easter Egg Hunt is provided under the "Egg Hunt" function of the Town of Wake Forest app. Download the app for instant access to egg hunt times, information concerning parking at Joyner Park, and more! IPhone, iPod Touch, iPad, and Android users can download the app by searching for "Town of Wake Forest" on iTunes, in the iPhone app store, or in Google Play or by scanning the appropriate QR code.

Weather
In case of rain, the Easter Egg Hunt will be moved to the Flaherty Park Community Center, 1226 N. White St. Smart phone users who have downloaded the Town of Wake Forest app will receive a push notification message informing them of any schedule changes. Updates will also be provided on our Facebook page and by calling the Wake Forest Weather Line at 919-435-9569.

Sponsors
Thank you to our 2019 Wake Forest Easter Egg Hunt Sponsors: Bumgarner & Martin Orthodontics, Primrose School of Heritage Wake Forest, Passanante's Home Food Services, British Swim School, Vision Martial Arts and Linchpin SEO.
2019 sponsorships are sold out. To learn about additional sponsorship opportunities fill out our Sponsorship Interest Form.

Prize Donations
Area businesses can support the 2019 Easter Egg Hunt by donating a prize for the event. Contributing businesses will be acknowledged online and displayed on a sign at the event. Gender neutral prizes are preferred. Examples include: Easter baskets, bicycles, movie tickets, kid's activity passes, toys, games and books. To donate for the 2019 event, contact Marketing & Business Relations Specialist, Anna Bolton.

Thank you to our 2018 prize donors: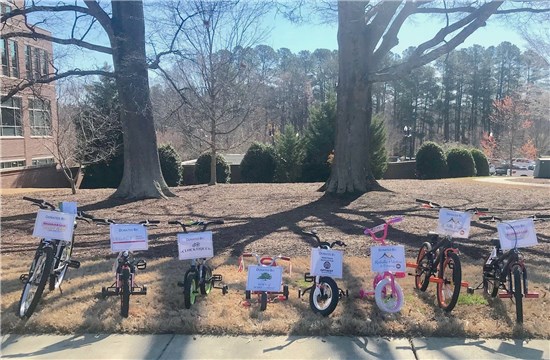 Sweeties Candy Shop

Clocktiques

Michelle Palatine & Company - Allen Tate Realtors

Wake Forest Optimist Club

Go Ape

Christian Brothers Automotive Wake Forest

Music Academy South

Nancy Jo Photography

The ReFab Lab

Image 360

Perkins Counseling & Psychological Services

Benchmark Community Bank

The ReFab Lab

PDQ

Pelicians SnoBalls

Golden Corral

Sam's Club

Legacy Wake Forest Apartments

Coastal Credit Union

For More Information

E-Notifier
To receive email notifications concerning special events in Wake Forest, sign up for E-Notifier.