Wake Forest Historic District Walking Tours
The Town of Wake Forest is proud of its rich heritage. That heritage is visible through the many historic buildings and districts that contribute to the character of our beautiful town. There are several opportunities to learn about the Town's history and its historic districts including taking a virtual walking tour or visiting the Wake Forest Historic Museum. Guided walking tours are offered occasionally by the Historic Preservation Commission staff and/or the Wake Forest Historical Museum. Information about future tours will be available on this page. However, you can experience historic Wake Forest first hand by taking advantage of the Town's self-guided virtual tours of the Local Historic District, Downtown and Town Cemetery. Printed brochures are also available at Town Hall, the Wake Forest Historical Museum, and the Wake Forest Chamber of Commerce. Please click on the links below to access the Town's virtual tours.
Wake Forest Local Historic District Tour
Downtown Wake Forest National Register Historic District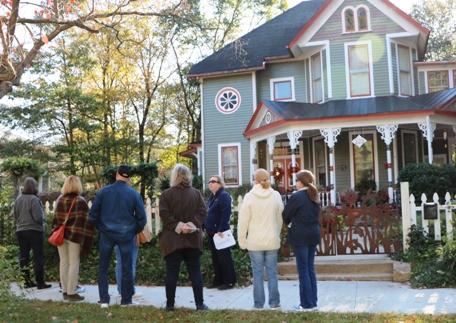 Attention History Buffs!
Anyone interested in the history of Wake Forest is encouraged to visit the Wake Forest Historical Museum, 414 N. Main St. The museum is free and open Tuesday-Friday, 9 am-noon and 1:30-4:30 pm/
The Historic Preservation Commission has also published walking tour brochures of the Downtown Historic District and Local Historic District. Both brochures are available at the Wake Forest Town Hall, 301 S. Brooks St. or at the Wake Forest Historical Museum.

E-Notifier
To receive email notifications concerning special events in Wake Forest, sign up for E-Notifier.