Northern Community Food Security Team
In February 2018, the Wake Forest Board of Commissioners endorsed Wake County's Comprehensive Food Security Plan making the Town the first in our area to join our area's local food council, the Capital Area Food Network (CAFN). The plan is designed to move the county towards addressing hunger now and in the future.
The NCFST was created to develop and launch a viable food security plan for northern Wake County that aligns with the CAFN plan. The Wake Forest Board of Commissioners charged NCFST with enlisting community members, food security organizations, resource experts, and other stakeholders to develop activities, policies, and partnerships that will move the county towards food security and a sustainable food future.

NCFST Members
Wake Forest Customer Service Manager Andrew Brown, Jr. serves as the current chair of the NCFST. Other members include George Shaw of Wake Forest Area Hunger Ministry; Ross Yeager, director of the Northern Regional Center; Sydney Klein with the North Carolina Cooperative Extension and Capital Area Food Network; and Emoke Anderson with the Northern Regional Center.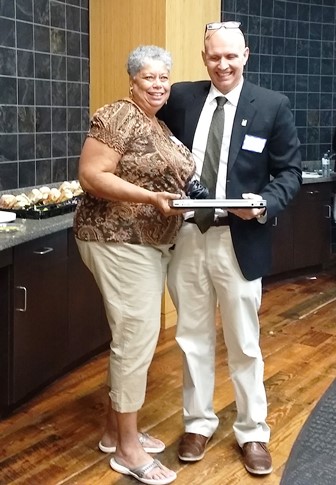 Recent Initiatives
Town donates laptop computers to local food pantries
Sept. 24, 2018
The Town of Wake Forest has endorsed the Capital Area Food Network (CAFN) plan to help with food security in our area. One of the immediate needs identified in the plan was for laptops at local food pantries. In response, the Town recently donated four laptops to the following food pantries:
Hope House
334 N. Allen St.
Wake Forest
Norma Bennekin, Pantry Manager

New Bethel Baptist Church
605 E. Young St.
Rolesville
Patricia Foye, Pantry Manager

Universal Outreach
4913 Universal Dr.
Wake Forest
Kari Eaton, Pantry Manager

Glory Tabernacle
120 Weathers St.
Youngsville
Helen Long, Pantry Manager

Staff Contact
For more information, contact Andrew Brown, Jr. at 919-435-9466.