National Trails Day
2019 National Trails Day
Saturday, June 1, 2019 ~ 9 am - 1 pm
E. Carroll Joyner Park, 701 Harris Road
The Town of Wake Forest will celebrate National Trails Day on Saturday, June 1, from 9 am-1 pm at E. Carroll Joyner Park, 701 Harris Road.

National Trails Day 5K
The Greenways Advisory Board invites you to join us for the first Wake Forest National Trails Day 5K.
Wake Forest has been celebrating National Trails Day for the past five years. Now we are including a 5K race to the festivities! Race proceeds will support the maintenance of current greenways and development of new greenways in the Town of Wake Forest.

Environmental Education Expo
The free event will include an Environmental Education Expo featuring interactive environmental education stations. Set up throughout the park, the stations will offer both children and adults a unique opportunity to experience the wonders of nature while learning about the environment. As part of the expo, attendees will have the opportunity to get an up-close look at some of the living things you might encounter along the Town's trails and greenways:
Examine reptiles and amphibians and learn about their tracks and signs at an exhibit from the NC Museum of Natural Sciences

Learn how to identify song birds

Get on a LimeBike and explore the park trails

Learn about locally-growing, edible wild plants

Create a fishing line container

See camping exhibits, reptiles and more!

Family Yoga
The day's festivities will also include Family Yoga sessions from 9:30-10 a.m. and noon-12:30 p.m., as well as Hoop Jam & Singing Bowl Soundbaths from 10 a.m.-noon. Anyone planning to participate in Family Yoga is encouraged to bring a yoga mat.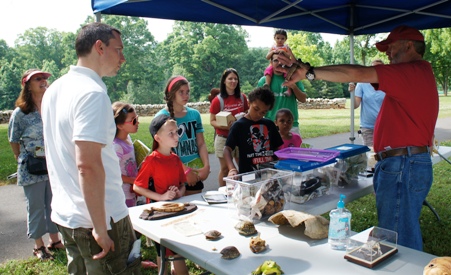 Participating Organizations
Several local organizations and businesses are scheduled to participate in the Environmental Education Expo, including Heritage High School, Friends of the Mountains to Sea Trail, Triangle Air Awareness, NC Wildlife Resource Commission, Frog Hollows Outdoors, the Boy Scouts, Spoke Cycles and many more.
Kids who pick up a passport at the Greenways Advisory Board booth and have it stamped at 10 stations or more will be eligible for a special prize (while supplies last). Those who visit ALL booths will be entered in drawing for additional prizes.

Celebrating Trails & Greenways
National Trails Day is a celebration of America's trail system, which occurs annually on the first Saturday in June. NTD features outdoor activities designed to promote and celebrate the importance of trails in the United States. Since 2003, the Town of Wake Forest has been building greenways as a way to bring open spaces that enhance the lives of its citizens within easy walking distance of their homes. The greenways link neighborhoods, parks, schools, and open spaces while also connecting to the vast Triangle greenway system. There are several more greenways planned for the Town of Wake Forest.

For More Information
For more information, contact Transportation Planning Manager Suzette Morales at 919-435-9512.