Lighting of Wake Forest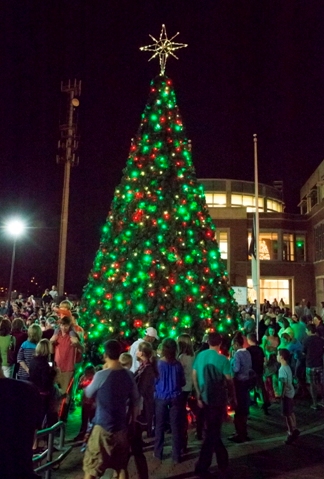 Area residents are invited to experience the full magic of the holiday season at the 2019 Lighting of Wake Forest on Friday, December 6.
Sponsored by Traditions at Wake Forest and presented by Wake Forest Downtown, Inc., the festivities take place in Centennial Plaza, 301 S. Brooks St., the gateway to Wake Forest Town Hall. This year's ceremony will start with musical performances by local groups followed by the lighting of a 30-foot Christmas tree by Mayor Vivian Jones and Santa's exciting arrival in a Wake Forest fire truck.
Free and open to the public, the Lighting of Wake Forest will include a children's craft activity sponsored by the Wake Forest Woman's Club, complimentary hot chocolate (courtesy of Wake Forest United Methodist Church), cookies (courtesy of Sam's Club), and glow necklaces, while supplies last.
As part of this year's event Wake Forest Woman's Club will be accepting donations of new socks for Note in the Pocket. Note in the Pocket is a Wake County based non-profit that provides clothing to impoverished and homeless schoolchildren in Wake County with dignity and love. Collection bins will be located outside the entrance to Town Hall.
Children's socks: Boys and Girls - Ages 5 to 10 or Sizes 8 toddler to 5 youth

Adult socks: Men and Women, Fashion or Athletic styles - Sizes Small, Medium, and Large
Thank you to our supporting Gold Sponsors: Circa Magazine, Goldfish Swim School, Triangle Family Dentistry, and Vision Martial Arts.
PLEASE NOTE: The lighting of the Town's 30-foot-tall Christmas tree will take place at approximately 6:15 pm.

Program Schedule
The Lighting of Wake Forest program schedule is provided below:
5:30 pm - Holiday Music

5:45 pm - Wake Forest Elementary School Chorus

6:00 pm - Wake Forest Children's Choir

6:15 pm - Mayor's Welcome, Tree Lighting & Santa's Arrival

6:30 pm - Patriot Pride Honors Chorus from Heritage Middle School

6:45 pm - Pictures with Santa begins

6:45 pm - Heritage High School Jazz Ensemble

7:30 pm - Holiday Music

8:30 pm - Pictures with Santa ends
Pictures With Santa
Pictures with Santa, will be offered in the town hall lobby from 6:45 - 8:30 pm. A ticket with a time reservation is required to have your picture taken with Santa. Time tickets will be distributed in Centennial Plaza outside the entrance to Town Hall beginning at 5:30 pm. Once you have your ticket with your time reservation, please feel free to enjoy all the festivities and return to the picture line at the time indicated on your ticket.
There is no charge to have your photo taken by our event photographer and photos will be able to be viewed online beginning on Tuesday, Dec. 10. Families are also allowed to take their own photos.
PLEASE NOTE: Due to time constraints, Santa can only have his picture taken with a limited number of children during the Lighting of Wake Forest. However, Wake Forest Downtown, Inc., will offer two additional opportunities for Pictures with Santa:
Saturday, Dec. 7; 10 a.m. to 3 p.m., Cotton Company Event Gallery, 306 S. White St., as part of Downtown Holiday Open House

Saturday, Dec. 14; 10 a.m. to noon, Sugar Magnolia Cafe, 219 S. White St.
Festival Street Celebration
In conjunction with this year's Lighting, the Town of Wake Forest will hold a Festival Street Celebration from 5:30pm-8:30pm to celebrate the grand re-opening of East Owen Avenue. The street has been reconfigured for the purpose of being a festival street, as part of the Capital Improvement Plan.
There will be 100% chance of snow (weather permitting) with a snow play area and snow sledding. Please note that due to the expected number of visitors that time in the snow play area will be limited to five minute increments, to allow as many people as possible to enjoy. In addition to our local downtown dining establishments Stuft food truck will also be onsite.

Parking
Parking is available along Taylor Street (behind Town Hall), South White Street, Elm Avenue, SunTrust lot, and along several side streets in the downtown area. Please note that Brooks Street will be closed to thru traffic.
For more information, contact Jennifer Herbert.

E-Notifier
To receive notifications concerning special events in Wake Forest, sign up for E-Notifier.