Friday Night on White
2019 Band Line-Up
Bands will play rock and roll covers from classic to modern rock, with a little funk and original music thrown in.

Know Before You Go
Schedule
Concerts get underway at 6 p.m. and continue until 9 p.m.

Last call for outside beer is 8:50 p.m.

Festivities along South White Street end at 9:30 p.m.

#FNOW
Tag your posts and photos! Attendants sharing on social media are encouraged to use the hashtag #FNOW.

Food
While you're downtown, you're invited to visit the variety of outstanding dining establishments in downtown Wake Forest or enjoy delicious food from a variety of food trucks that will be on site.

Downtown restaurants include Black & White Coffee Roasters, The Burger Shop, Domino's Pizza, The Forks Cafeteria, Hardee's, LaForesta Italian Cafe & Pizzeria, Las Margaritas, The Lemon Tree, Lumpy's Ice Cream, Sugar Magnolia Cafe, Over The Falls, Pizza Amore, Shorty's Famous Hot Dogs, and Wake Forest Coffee Co.

Food and dessert trucks scheduled to participate on April 12 include American Meltdown, Baozi, Charlie's Kabob Grill, Cousins Maine Lobster, Fuzzy's Empanadas, Havana Dave's, Kona Ice, Lumpy's Ice Cream, Sweet Traditions, the VFW Chuckwagon, Virgil's Jamaica, and The Wandering Moose.

Beverages
Beer and wine are available for purchase. Age identification will be checked for beer and wine.

Help Us Reduce Your Time in the Beer Line
Due to the incredible crowds that turn out for Friday Night on White, the lines for beer are sometimes long - but they move fast. You can help us reduce the wait times even more by remembering the following:
When approaching the front of the line, be prepared to move to the next available server. There are at least three servers at each beer truck.

Have your token(s) ready.

While standing in line, read the beer descriptions and know which one you want to order or ask about.

Parking
Free parking is available along several side streets and parking lots in downtown Wake Forest, including Southeastern Baptist Theological Seminary.

However, some parking lots may appear to be public, when in fact they are private. Read all signage in the parking lot to determine what type of lot you are using. Private lots are intended for business patrons only. Public lots that are open to Friday Night on White attendees are clearly marked.

Items Allowed & Not Allowed
Bring a lawn chair and blanket - but if you bring a lawn chair and/or blanket, please place them in the street - not on the sidewalk. Please leave the sidewalks open for pedestrians.

Please leave your coolers and outside alcoholic beverages at home.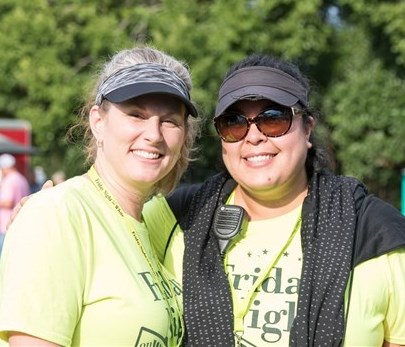 Volunteer
Volunteers are needed. Learn how you can help!

Weather Updates
Friday Night on White concerts are scheduled to take place rain or shine. However, in the event of inclement weather on the day of a concert, a decision on whether to proceed will be made no later than 3 p.m. Updated concert information will be posted on the Town's Facebook page and available by calling the Wake Forest Weather Line at 919-435-9569.
Smart phone users who have downloaded the Town of Wake Forest app will receive a push notification message concerning any schedule changes.

Friday Night on White App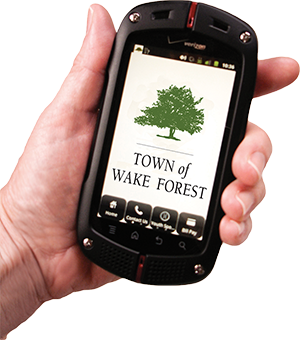 Android and iPhone users can have a handy pocket guide to Friday Night on White in the palm of their hands by downloading the Town of Wake Forest app and utilizing the app's "Friday Night on White" function. Designed to offer smart phone users instant access to important details about this year's outdoor music series, the function includes the complete 2018 concert schedule, the lineup of participating food and dessert trucks, parking information, weather updates and more.
IPhone, iPod Touch, iPad, and Android users can download the Town's free app by searching for "Town of Wake Forest" on iTunes, in the iPhone app store, or in Google Play or by scanning the appropriate QR code.
South White Street
Downtown Wake Forest
Free parking is available along several downtown streets and lots on campus of Southeastern Baptist Theological Seminary
Outside alcoholic beverages, coolers, weapons of any kind, unleashed pets