Public Notice of Public Hearings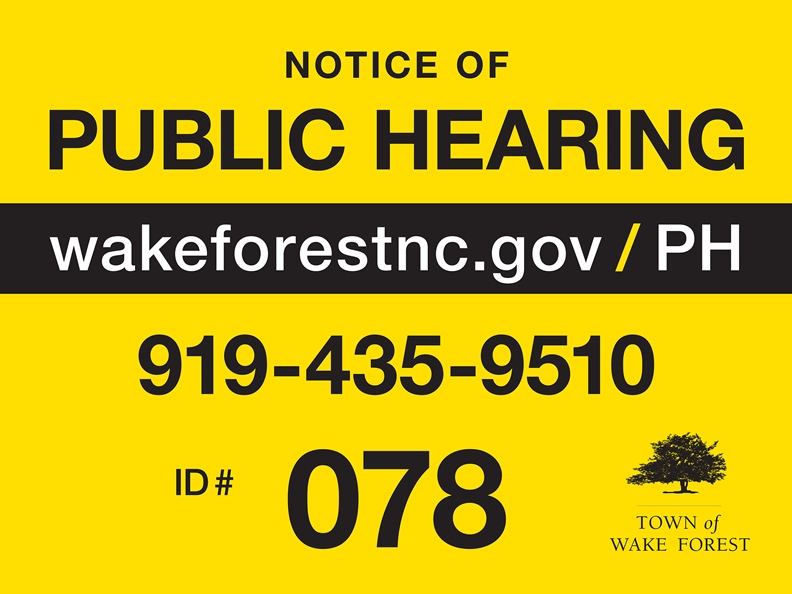 In an effort to increase citizen awareness of upcoming Public Hearings, the Town of Wake Forest has redesigned its Public Hearing notice signage. These signs are posted on properties being considered for public hearing - typically at least two weeks prior to the public hearing date.
The new bright yellow signs are designed to stand out, so they are easily noticed. The information on the signage has also been streamlined and the text enlarged to make it easier to read. The reusable signs also feature sturdier bases making them less likely to tip over.
Moving forward, each public hearing will be assigned a unique ID# which will be clearly visible on the new signs. Anyone with questions about a scheduled public hearing should note the ID # to quickly obtain accurate information about the scheduled public hearing.
If you see a sign and want more information, you have two options:
Visit www.wakeforestnc.gov/PH
Scroll through the listed public hearings until you find the correct ID #. There you will see what is being proposed, who the case manager is and their contact information, as well as a map of the area being considered for the Public Hearing.

Call 919-435-9510
The staff person who answers your call will look up the public hearing information based on the ID# and put you in contact with the case manager who can provide additional information.


Letters
The Unified Development Ordinance requires that public hearings be advertised in newspapers and have first-class letters sent to adjacent property owners.
In the coming weeks, the first-class letters will be mailed in bright yellow envelopes featuring the Town logo and "Public Hearing Notice" printed on the outside. These new envelopes are intended to reduce the chances of the notices being discarded by mistake.