Archaeology Workshop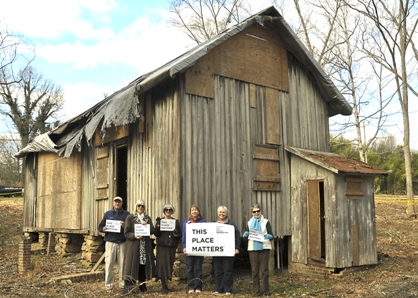 The Wake Forest Historic Preservation Commission will host an archaeology workshop on Saturday, April 29, at the site of the Ailey Young House. The workshop will be partially funded with a federal Historic Preservation Fund (HPF) grant awarded by the State Historic Preservation Office (HPO) through the National Park Service's Certified Local Government Program (CLG).
The Ailey Young House is located along North White Street, north of Spring Street and south of the Wake Forest Cemetery. The one and a half story saddlebag house is a rare example of Reconstruction-era rental housing that was the childhood home of Allen Young, an important educator in the history of Wake Forest. It is the oldest known African American historic resource within Wake Forest.

Registration Information
The April 29 workshop is open to everyone but children must be accompanied by an adult. There is no cost to participate, but registration is required by completing the registration form below.
Registrants may choose from one of the following start times: 10 a.m., 11 a.m., and 2 p.m. Each workshop is approximately two hours and each group is limited to 30 participants.

Workshop Overview
Participants will meet at the Alston-Massenburg Center, 416 N. Taylor St., at the appointed time for a brief presentation on the Ailey Young House and to view artifacts collected from the site. Staff from the Office of State Archaeology will also be on hand to discuss appropriate methods of artifact collection and interpretation.
Following the presentation, participants will proceed to the Ailey Young House site to view the structure and participate in a ground penetrating radar demonstration by New South Associates.

Know Before You Go
The Ailey Young House site is not an improved site, so it is not handicapped accessible.

The workshop is not recommended for anyone who has difficulty walking or moving around.

Participants should dress appropriately for being outdoors by wearing protective clothing, sunscreen, insect repellent, hats, and appropriate shoes (no sandals or flip-flops).

Parking
Parking will be available at the Alston Massenburg Center and along Taylor Street. Parking will also be provided along Spring Street and within the Wake Forest Cemetery. Participants are asked to be respectful in the event a funeral is scheduled on the day of the workshop.

Staff Contact
For more information, contact Senior Planner Michelle Michael at 919-435-9516.