Greenway Improvements Bonds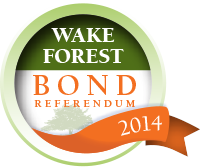 On Nov. 4, 2014, Wake Forest voters passed a $25.1 million bond for three separate capital projects totaling $55 million.
Question #3 concerning greenway improvements passed 6,902 to 3,619 (65.6% to 34.4%).
Bond Amount
Purpose
Funding will be used to expand the town's network of trails providing connections to major activity centers.
Potential Projects