Smith & Sanford Creek Greenway Project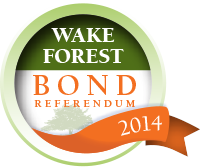 Project Overview
The Town of Wake Forest has completed a continuous pedestrian facility consisting of approximately 2.4 miles of greenway trail and 1.25 miles of sidewalk and multi-use path in the vicinity of Heritage Elementary, Middle, and High Schools. This project connects major activity centers in Wake Forest.
The town received $3.4 million in federal Congestion Mitigation & Air Quality (CMAQ) grant funding to support this project.
A 10-foot wide, paved greenway ties the existing southern end of the Smith Creek Greenway at the Soccer Center, south along Smith Creek to the intersection with Sanford Creek. There, the greenway follows Sanford Creek along the Heritage High School property, and terminate at the existing western edge of the Sanford Creek Greenway in the Heritage South neighborhood.
Sidewalks and multi-use paths have been constructed along Rogers Road between South Franklin Street and Heritage Lake Road, as well as along Heritage Lake Road between Rogers Road and Heritage Heights Lane.
Pedestrian and bicycle friendly connections to adjoining schools and neighborhoods were also constructed, promoting environmentally friendly transportation routes to schools, parks, shopping centers and homes.

Project Timeline
2009 Grant awarded

2012 NCDOT authorized grant funding

2012 Request for Qualifications (RFQ) released for private engineering firms to bid on the project

NCDOT held a public workshop during the spring of 2013 to present information about the Rogers Road and Forestville Road bridge replacement projects

Citizen Informational Workshop was held May 30 at Hope Lutheran Church. Participants were able to see the draft design plans and offer comments regarding the project.

2013 Environmental Permitting, Design Greenway, Conducted community outreach meetings

2013-2015 City of Raleigh Public Utilities Smith Creek Interceptor Project along this project area

2014 Right-of-way acquisition began

2016 Construction Start

September 30, 2017 Tri-Creek Crawl; Smith and Sanford Creek Greenway and Dunn Creek Downtown Connector Project Grand Opening and Ribbon Cutting

Minor punchlist work in progress

June 2018 Update
Completing final punchlist items for the Wayfinding portion of the project in progress
Proposed Trail Renderings
Click on the large photo below or one of the smaller thumbnail images to view a slideshow of trail renderings: