Equal Payment Plan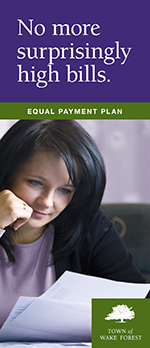 You can take the surprises out of your monthly utility bill with the Town of Wake Forest Equal Payment Plan (EPP).
Once you enroll in EPP, you will receive a bill each month for the same amount. It's a great way to smooth the peaks and valleys of seasonal electric usage and enable you to budget with precision.
Here's how the program works:
We average your electric bill for the year based on your previous billing records. If you have had service for less than a year, your account may be adjusted and you will be notified.

We divide that amount into 11 equal payments that you will make each month.

The 12th month is used to recalculate your account for the next year.
If you paid for more electricity than you used over the first 11 months, we will credit your account the difference. If you used more electricity than you paid for, then we will bill you for that amount. Your EPP payments may be adjusted each year depending upon your electricity usage and current electric rates.
To be eligible for the Equal Payment Plan, the following must be true:
Your account has had service at least twelve (12) months.

You have had no more than 1 late payments over the last twelve (12) months.
To enroll in EPP, complete the online Equal Payment Plan Agreement.