The Week Ahead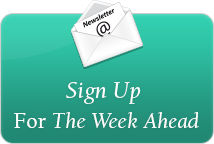 The Wake Forest Community Calendar is a comprehensive listing of upcoming local events submitted by non-profit groups and organizations in our area.
The Town of Wake Forest provides the Community Calendar as a free service and invites local non-profits, including churches, civic clubs and other community organizations, to submit their events for inclusion on the calendar - according to our detailed submission guidelines. The Community Calendar is typically updated each week on Thursday or Friday.
Community Calendar submissions received at least one week prior to the event will be included for publication in The Week Ahead - the town's weekly e-listing of upcoming community events.
The Week Ahead is emailed to over 4,000 E-News subscribers each week - typically on Thursday or Friday.
In special circumstances, The Week Ahead may be distributed on Wednesday. To ensure your event's inclusion in The Week Ahead, please email your submission to Bill Crabtree at least two weeks prior to the event.