Smith Creek Greenway Phase 2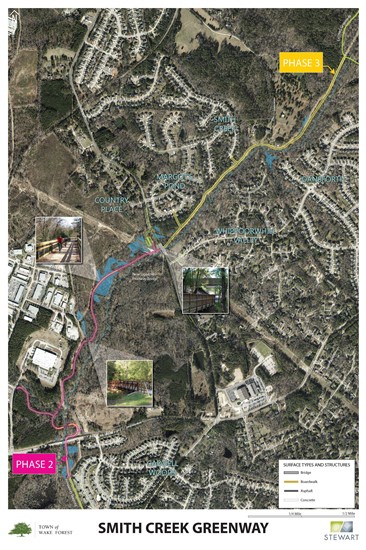 This phase consists of 1.1 miles of greenway trail and trailhead with parking provide connection between existing trails. This segment will provide a connection from Ligon Mill Road, south, to Burlington Mills Road. This trail will connect to the southern portion of the existing Smith Creek Greenway and ultimately to Raleigh's Neuse River Greenway via the Wake Forest Connector bridge.The trailhead will also be developed with parking on Ligon Mill Road near Song Sparrow Drive. The trailhead is anticipated to be constructed at the same time as the Ligon Mill Underpass (B-5318) in FY19.
Wayfinding signage will also be included to aide users along the greenway sections.
This project is currently in design.

Project Funding
Phase 2 is funded using the 2014 Bond Referendum which provided $4.6 million to greenway improvements. It is also funded, in part, by a grant from the Clean Water Management Trust Fund ($500,000) for Right-of-Way acquisition. Phase 2's Design and Construction are partially funded with a Wake County Open Space Grant ($941,000). Staff will submit a LAPP application for NCDOT grant funding for construction in 2020.

Neuse River Greenway
The Neuse River Greenway is part of an extensive system that links Wake Forest to Knightdale, Clayton and Raleigh and is presently 33 miles in length.
As part of the Neuse River Greenway project in 2011-2012, the Town of Wake Forest funded a $1.4 million pedestrian bridge over the Neuse River and constructed a segment of trail to connect with the existing section of Smith Creek Greenway. Measuring 558-ft. long, this bridge is the largest multi-use bridge in North Carolina!

Public Involvement
Public involvement is an important part of the project development process. The Town of Wake Forest encourages citizen involvement and will consider all suggestions.
An informational public workshop took place on April 24, 2017.
A 2nd informational public workshop took place on August 2, 2018 at the Renaissance Centre from 4:00pm to 7:30pm for residents to review the greenway alignment.
If you have questions, please contact one of the persons to the right of the page:
October 2018 Update
Continuing with Design and Permitting

2nd Public Meeting August 2, 2018, Renaissance Centre, 4:00pm to 7:30pm

Design in progress for parking lot trailhead using B-5318 Ligon Mill Underpass old roadbed and town property