Dunn Creek Greenway Phase 3
Description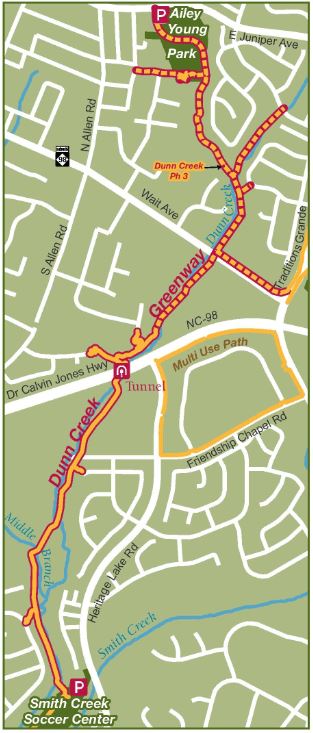 Dunn Creek Greenway Phase 3 connects the newly constructed "Dunn Creek Downtown Connector" to Ailey Young Park and to Wildflower Ridge Road. Developers will continue north, constructing Dunn Creek Greenway Construction of greenway from town property to NC 98 Business to Oak Grove Church Road. 1.9 mile trail connection to Ailey Young Park.

Cost
$7.6 million

Staff will submit a grant application for NCDOT LAPP funding for 2021 construction.

Public Involvement
Public involvement is an important part of the project development process. The Town of Wake Forest encourages citizen involvement and will consider all suggestions. A citizen informational public workshop took place on March 29, 2017. There will be other opportunities for public comments and suggestions throughout this planning phase.
In the meantime, if you have questions, please contact one of the persons to the right:

October 2018 Update
Project at 90% design

Right-of-Way acquisition has begun