Volunteer Tree Nursery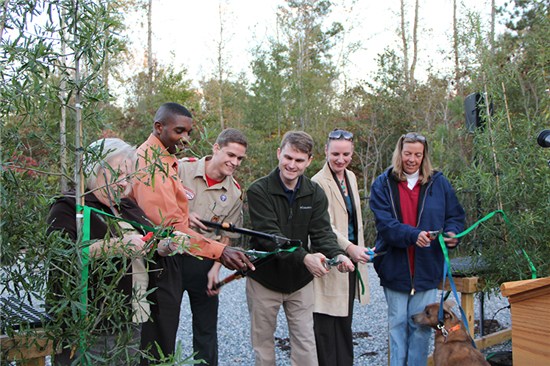 The Wake Forest Urban Forestry Board commemorated the official opening of the Volunteer Tree Nursery on Oct. 23, 2013.
The tree nursery is located inside E. Carroll Joyner Park, 701 Harris Road. The trees cultivated and stored inside the nursery will be planted as street trees, in landscaping projects, at stream restoration sites and along town greenways. The nursery will also provide a secure location where the town can temporarily store trees and plants from local nurseries when planning large planting projects, which will help make those projects easier and more cost effective.

Volunteers
As envisioned, a majority of the work at the nursery will be performed by volunteers, specifically in regard to tree planting, watering and maintenance. The Parks and Recreation Department receives many requests for projects throughout the year with which individuals and groups of volunteers can provide assistance. The new tree nursery will offer ample volunteer opportunities while also providing a ready source of inexpensive trees.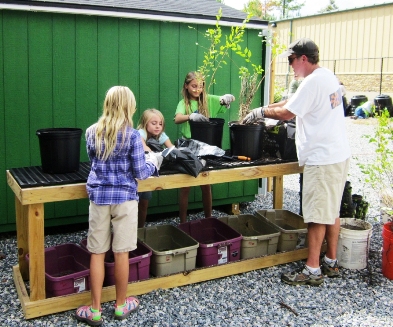 In addition to the 60 trained volunteers that are currently participate in the Tree Stewards program, the town has received hundreds of hours of assistance from Boy and Girl Scouts, high school students, the Lions Club, the Young Civitans, and other organizations to help build and outfit the nursery.

What's Inside the Nursery?
The nursery currently houses 77 river birch, 10 baldcypress, 16 white oak, and 82 longleaf pines growing in three- to seven-gallon containers. The town purchased the seedlings from the NC Forest Service Nursery in Goldsboro. Plans also call for the Tree Stewards help collect seeds from local trees in hopes of propagating clones of historic and outstanding local trees.
The containers at the nursery will be reused and the water comes from a 1,680-gallon cistern that collects rainwater from the roof of the maintenance building located adjacent to the nursery.
For more information about the Wake Forest Volunteer Tree Nursery, including opportunities to volunteer, contact Luke Devores at 919-435-9565.