Sanitation Billing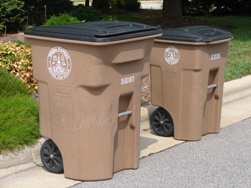 On June 17, 2008, the Wake Forest Board of Commissioners voted to add four cents to the property tax rate for the purpose of replacing the monthly residential garbage and recycling fee. Beginning in July 2008 the Town of Wake Forest began treating residential garbage and recycling service the same as fire and police service as part of your annual property tax bill.
The new process simplifies the way you pay for residential sanitation service by eliminating your monthly sanitation charge and including it as a public service paid for by tax revenues.
The measure also creates an annual cost savings for over 95% of the Town's sanitation customers. If your home is valued at less than $501,590, you now enjoy an annual cost savings of as much as $130/year (see graph below).In addition, you will are eligible for a tax deduction potentially making your savings even greater.
Attention Residents! No Need to Apply for Sanitation Service
As a result of the Town's sanitation billing policy, new residents are no longer required to apply for sanitation service. Instead, contact Betty Pearce at 919-435-9570 to request your rollout garbage and recycling carts. And when/if you decide to move, there's no need to cancel your service. Simply leave your carts in your garage or behind your home.

Sanitation Fee vs. Tax Rate Increase
Average Residential Valuation in Wake Forest

Break Even

Estimated Valuations

$175,000

$225,000

$259,100

$350,000

$475,000

$501,590

Tax Rate Increase -
Absorb Residential Sanitation Rates

0.04

0.04

0.04

0.04

0.04

0.04

Approximate Increase in Tax Bill

$70.00

$90.00

$103.64

$140.00

$190.00

$200.64

Annualized Residential Sanitation Bill ($16.72 per month)

$200.64

$200.64

$200.64

$200.64

$200.64

$200.64

Annual Savings

$130.64

$110.64

$97.00

$60.64

$10.64

$0.00