Mustache May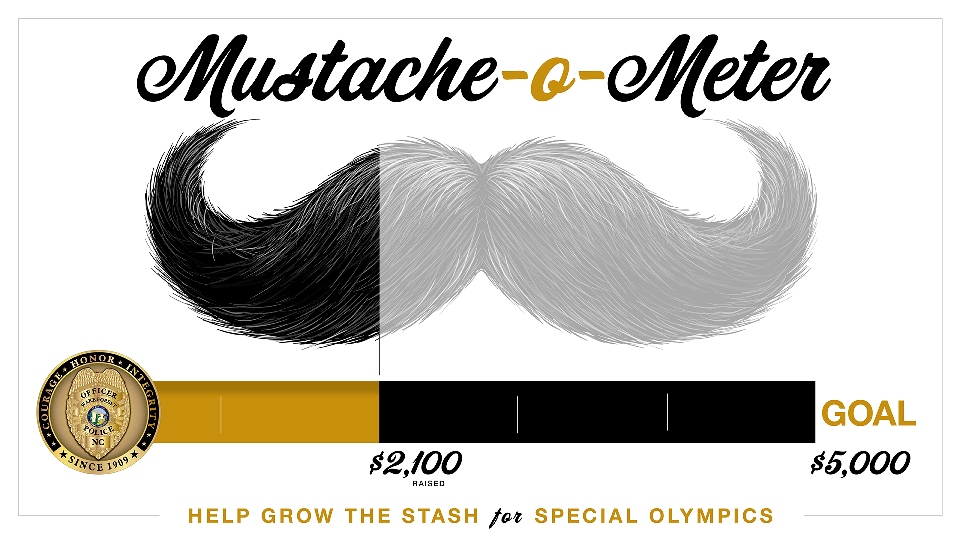 Several members of the Wake Forest Police Department helped raise money for NC Special Olympics and the Law Enforcement Torch Run for Special Olympics by participating in "Mustache May."
As part of the event, several participating officers grew mustaches to show their support for Special Olympics and the nearly 40,000 registered athletes who train and compete year-round in 20 different sports. Each participant also agreed to raise at least $50 by June 1, 2021.
Altogether, the effort raised $4,426 for NC Special Olympics and the Law Enforcement Torch Run for Special Olympics.


2021 Participants
The officers shown below are participating in the 2021 Mustache May. To donate to a particular officer's fundraising effort, please click on their photo, then follow the prompts.
About Special Olympics
Eunice Kennedy Shriver founded Special Olympics with a vision that individuals with intellectual disabilities were far more capable in sports and physical activity than many experts believed possible. In 1968 Mrs. Shriver organized the first Special Olympics International Games in Chicago, Ill. Six athletes from North Carolina were among the participants.
Special Olympics North Carolina held its first Games in 1970 with 400 participants and has since grown to be recognized globally as one of the largest Special Olympics programs in the world. Nearly 40,000 children and adults with intellectual disabilities participate in Special Olympics North Carolina.
The mission of Special Olympics is to provide year-round sports training and athletic competition in a variety of Olympic-type sports for children and adults with intellectual disabilities, giving them continuing opportunities to develop physical fitness, demonstrate courage, experience joy and participate in a sharing of gifts, skills and friendship with their families, other Special Olympics athletes and the community.
Special Olympics aims to combine high quality sports with a wide audience, and be a driving force for social inclusion of people with intellectual disabilities.


About The Law Enforcement Torch Run
The Law Enforcement Torch Run® (LETR) for Special Olympics is the largest year-round public awareness and grass-roots fundraising campaign for Special Olympics. Known as Guardians of the Flame, law enforcement members and Special Olympics athletes carry the Flame of Hope into the Opening Ceremony of local competitions, and into Special Olympics State, National, Regional and World Games. Annually, more than 110,000 dedicated and compassionate law enforcement members carry the "Flame of Hope," symbolizing courage and the celebration of diversity, uniting communities around the globe. Here in North Carolina, nearly 2,000 law enforcement personnel support the NC LETR annually!
The LETR for Special Olympics engages law enforcement worldwide, championing acceptance and inclusion for people with intellectual disabilities, starting first with their own communities. Over the years, the Torch Run has evolved and now encompasses a variety of innovative fundraising events, including the Plane Pull®, Polar Plunge®, Tip-A-Cop®, Truck Convoy and more. Since its inception, LETR has raised almost $800 million worldwide with over $30 million being raised for Special Olympics North Carolina.