Roadways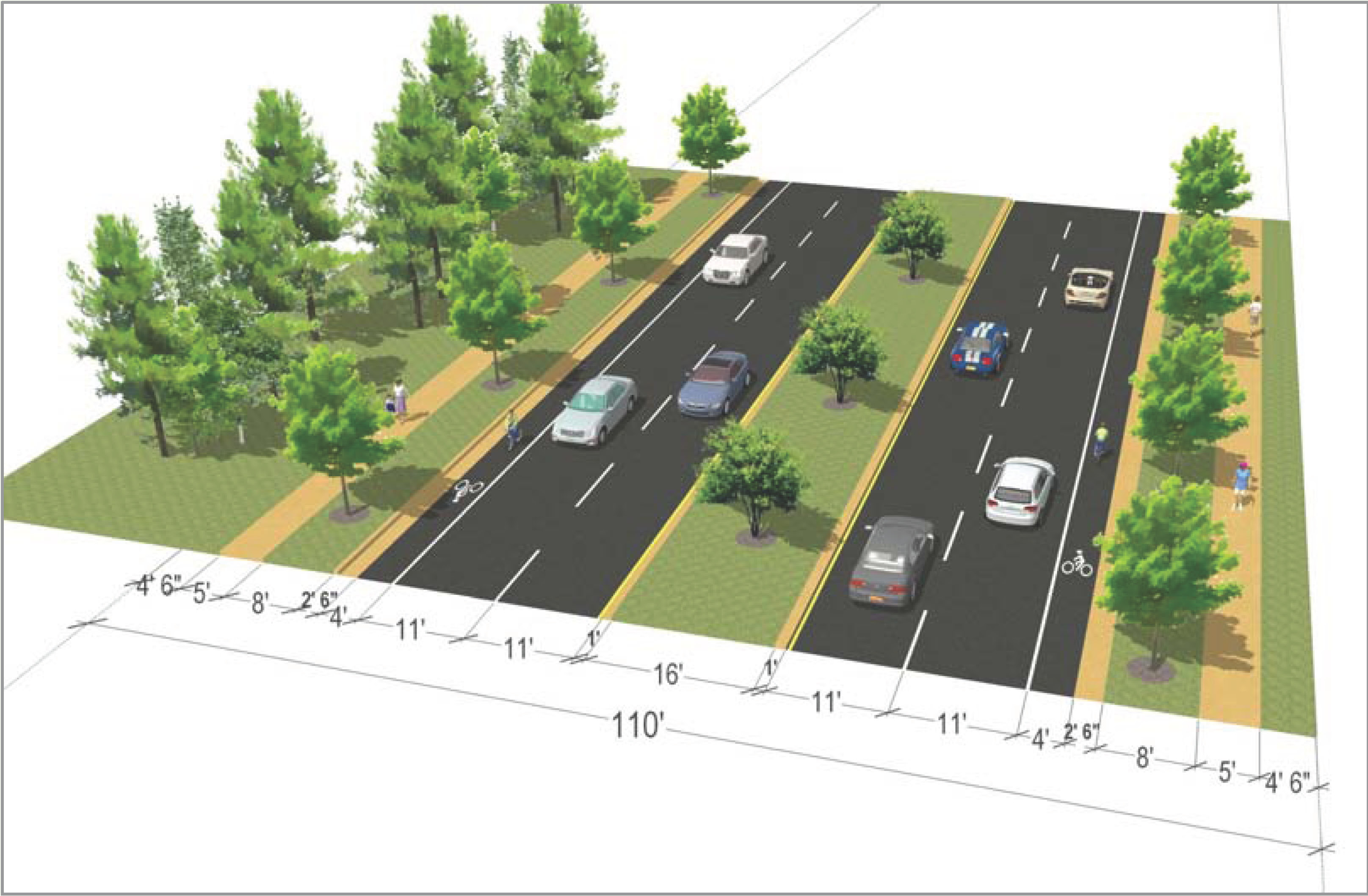 Planners study the relationship of roadway corridors and activity centers, the functional classification of roadways, corridor operations at various levels of volume and capacity, as well as traffic safety and crash history. The challenges facing the future of the transportation network in Wake Forest are the collective result of sustained growth, continued reliance on the automobile for short trips, and increasing competition for limited transportation funds.
One potential solution to this challenge is a complete street. Complete streets is North Carolina's approach to an efficient multi-modal transportation network that safely accommodates the access, mobility and safety needs of motorists, transit users, bicyclists and pedestrians of all ages and abilities. In Wake Forest, the complete street design would complement access and mobility requirements of the major and minor thoroughfares. In addition to improving and expanding our existing road infrastructure, we will increase the number of bicycle and pedestrian facilities.
Streets are classified into several "functional" categories which define each street in terms of roadway design and character, as well as operational features for the movement of vehicles. Each functional classification category groups streets according to the land use served and provides a general designation of the type of traffic each street is intended to serve. Two major considerations that distinguish thoroughfares from local streets are access and mobility.
The primary function of thoroughfares is to provide mobility. Thoroughfares operate at higher speeds (45 mph and above), provide significant capacity, have a great degree of access control, and serve longer distance travel. These facilities can be subdivided into categories that include freeways and expressways, as well as major and minor thoroughfares. Freeways and expressways serve long distance travel and support regional mobility. I-540 is an example of a freeway. Major thoroughfares typically have tightly controlled access and few individual site driveways. Capital Boulevard (US-1) is an example of a major thoroughfare. Minor thoroughfares primarily serve local traffic with closely spaced intersections and many individual site driveways, providing a high level of access to adjacent land uses. White Street, Elm Avenue, and Holding Avenue are examples of minor thoroughfares. Bus transit routes are commonly found on major and minor thoroughfares.
Collectors typically provide less overall mobility, operate at lower speeds (less than 35 mph), have more frequent and greater land use access flexibility, and serve shorter distance travel than thoroughfares. The purpose of collectors streets is to collect traffic from neighborhoods and distribute it to the thoroughfares. Heritage Club Avenue, Wingate Street, and Cimarron Parkway are examples of collectors.
The primary function of local streets is to provide access to neighborhoods as well as local commercial and mixed-use land areas. Local streets are not intended for use by through traffic, serving short distance travel and have low posted speed limits (25 mph to 35 mph). Most neighborhood streets in Wake Forest are classified as local streets.

Transportation Corridors
Official Town of Wake Forest Plans guide transportation improvements in Town. Some plans focus on one geographic area, a highway corridor for example. Other plans focus on one mode of transportation, such as bicycles. Other plans focus on how all geographic areas and modes of transportation work together. Citizens contributed ideas and prioritized projects as the Plans were being developed. Over time projects will be completed and these plans will be revised to meet the needs of the community as development and growth occur.
US 1 (Capital Boulevard) is a major transportation link between Raleigh and the region north of the city; and it is a gateway into the Town of Wake Forest. Most of the land along the US 1 corridor is zoned for commercial development. The collector roads leading to US 1 are major commuter routes for residents of Wake Forest as well as for communities further north and east. These roads serve as gateways into Wake Forest for visitors and residents alike. The US 1 Corridor Plan has three major goals; 1) to facilitate the transportation function of the Corridor, including regional flow along US 1 and the connections to Wake Forest; 2) to preserve and enhance the visual quality of the Corridor so as to create a pleasant passage for all and welcoming gateway to the community; and 3) to encourage development within this Corridor that is compatible with the first two goals.
NC 98 (Dr. Calvin Jones Highway) is a major gateway to Wake Forest and a regional arterial thoroughfare. Currently, most of the land along the corridor is either residential or undeveloped. Shopping and/or business centers currently exist or are planned at several intersections along NC 98. Commercial and/or business uses are anticipated at the major intersections, while the remainder of the corridor is expected to be residential. The NC 98 Corridor Plan will guide the development along the corridor to preserve the visual quality of the corridor, create safe and well-connected bike and pedestrian routes, as well as vehicular routes, and encourage compatible development.

Maintenance Issues
There are various roads within Town that are NCDOT roads. These particular road segments are maintained by the state rather than the Town. To search for state maintained roads, use the SR Lookup Tool. NCDOT's map of state-maintained roads is another resource to learn which agency is responsible for each road's maintenance. Click on the NCDOT State Maintained Network map, when the map displays, zoom to Wake Forest. More information will display as you zoom closer to Town. Typically, the roads with painted white and yellow lines are state-maintained, therefore those without paint are usually town-maintained. To repot potholes, drainage issues, sidewalk repairs or street sign replacements, contact Betty Pearce at 919-435-9570. All of the traffic signals in town are operated by NCDOT. To report issues for state maintained roads, post a comment on DOT's Division 5 contact page.

Resources
Staff Contact

Eric Keravuori
Assistant Director of Community Services
919-435-9441