Downtown Design Week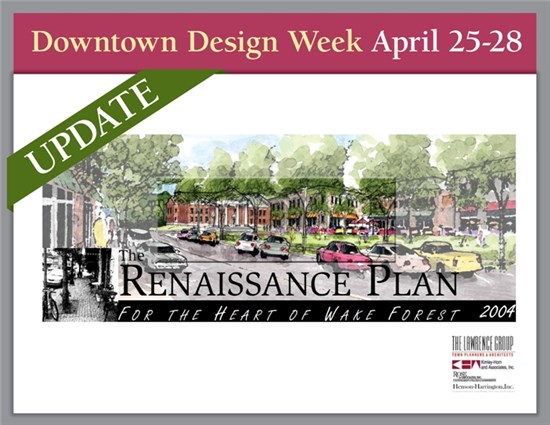 Downtown Design Week
Monday, April 25 - Thursday, April 28
Wake Forest Town Hall, Ground Floor Meeting Room, 301 S. Brooks St.
The Downtown Design team is inviting Wake Forest residents to offer continual input and monitor the work-in-progress. Members of the community and all those interested in the future of the downtown area are invited to stop by town hall to participate in a series of meetings to share feedback on a variety of downtown-related topics. The design team will be on hand to meet with citizens, answer questions, and further refine ideas. Citizens are welcome to attend any and all of these meetings.
These meetings will take place in the Wake Forest Town Hall's ground floor meeting room which is most easily accessed via the building's Taylor Street entrance.
For more information, contact Planning Director Chip Russell.
---

Monday, April 25
1 pm
Public Utilities (Water, Sewer, Storm, Electric, Telecom, Gas)
2:30 pm
Historic District/Historic Structures
4 pm
7 pm
Public Kickoff Workshop: What is your vision? The event will feature background information and a "food for thought" presentation on national best practices in traditional urban design, transportation, zoning, and preserving community character. It will be followed by a hands-on design session where community residents, stakeholders, and officials work together to generate a development vision for the Downtown Renaissance area.
---
Tuesday, April 26
9 am
10:30 am
Noon
Retail 101 Workshop - Encore Presentation by Michael Berne
1 pm
2:30 pm
Mobility (Transit, Street, Bicycles, and Pedestrians)
4 pm
Neighborhood Leaders/Homeowner's Associations
5:15 pm
Daily Project Update/Design Pin-Up Session
---

Wednesday, April 27
9 am
Streetscape Design & Gateways
10:30 am
Parks, Greenways, and Public Space
1 pm
2:30 pm
5:15 pm
Daily Project Update/Design Pin-Up Session
---

Thursday, April 28
9 am
Open Session (ends at Noon)
1 pm
Open Session (ends at 5 pm)
5:15 pm
Daily Project Update/Design Pin-Up Session
---
Share Your Ideas & Opinions
Community input is the cornerstone of the Renaissance Plan Update process. In addition to attending the sessions offered during Downtown Design Week, area residents are invited to share their ideas and feedback concerning downtown Wake Forest at
downtowndesign@wakeforestnc.gov
and on
mySidewalk
.