Holding Park Aquatic Center Update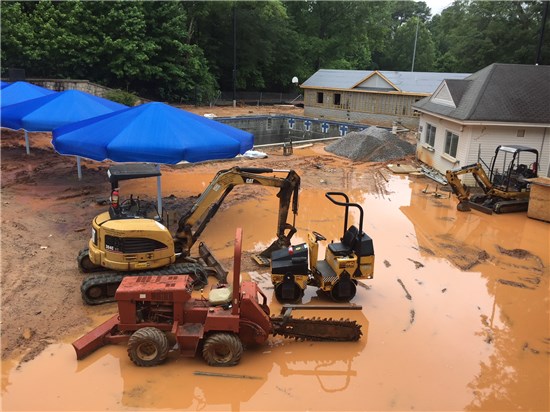 Holding Park Aquatic Center opening delayed "indefinitely"
June 12, 2018
Mother Nature is at it again and now she's using another form of extreme weather to delay the opening of the Holding Park Aquatic Center. Over the winter, the culprit was subfreezing temperatures. Now, the problem is rain - lots and lots of rain. More>>
---
Construction is underway on the Holding Park Aquatic Center. The pictures below highlight the efforts that began in early December 2017.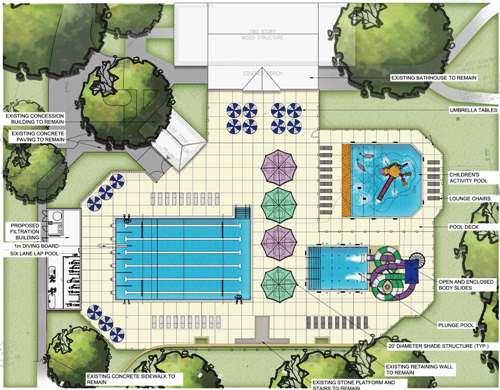 Background
Due to the discovery of significant structural issues, Holding Park Pool, 133 W. Owen Ave., did not open in 2016. The pool opening, which typically takes place over the Memorial Day weekend, was delayed because of a serious leak.
While working to repair the leak, contractors discovered major problems related to the integrity of the pool walls. As a result, all pool-related activities scheduled for 2017 were also canceled.
The Holding Park Aquatic Center is scheduled to in 2018.
This page is designed to keep area residents informed about the Town's progress toward replacing Holding Park Pool. Content is updated as developments warrant.

August _16 - Community Interest Survey
The Town of Wake Forest introduced a four-question Swimming Pool Community Interest Survey designed to gauge residents' level of interest in a community swimming pool. Based on the results of the survey, the board of commissioners voted to proceed with replacing Holding Park Pool.
Please note: Summary data for questions 1 and 2 are provided. Questions 3 and 4 required comments.

October 2016 - Board Votes for New and Improved Holding Park Pool
During its October meeting, the board of commissioners heard about the possibilities for the Holding Park Pool replacement.
Kimley-Horn Engineer Mark Hatchel's PowerPoint presentation addressed how pools are built now and possible amenities. Hatchel said current trends are for larger facilities with multiple bodies of water. He provided a range of estimates for splash pads, indoor/outdoor recreation center pools, and replacement of municipal pools with family aquatic centers.
Although Hatchel discussed the possibility of a phased approach, he said completing the work all at once would be most cost-effective.
The board agreed and settled on a new and improved Holding Park Pool at a total cost of $2.5 million.

Project Timeline
Town officials announced a tentative project schedule in November 2016. An updated schedule was announced in June 2017:
November 2016 - Design contract award

December 2016 - Data collection complete

March 2017 - Construction documents complete

July 2017 – Signed/Sealed Plans – Advertise for Bids

August 2017 – Received Bids/Recommend Award

August 2017 - Board of Commissioners to Award Bid

September 2017 – Contractor to Begin Construction

Late Spring/Early Summer 2018 - Project Complete/Open to the Public