Open Space & Greenways Plan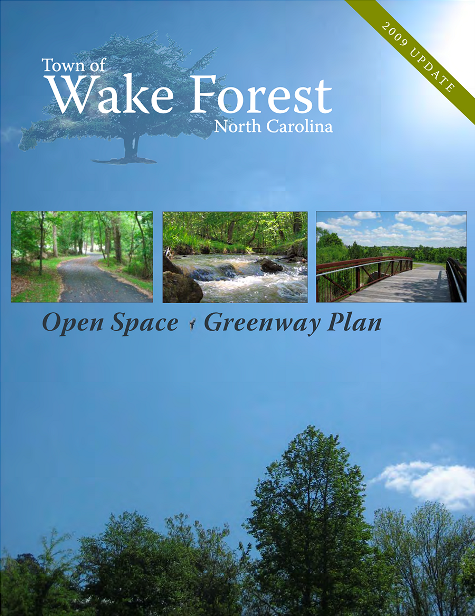 The Town of Wake Forest adopted the Open Space & Greenway Plan Update in 2009. This update expands upon key recommendations from the 2002 Plan and provides the Town of Wake Forest with new ideas and tools to effectively create and maintain a comprehensive open space and greenway network. The new goals of the Plan Update, to be considered in conjunction with the goals of the 2002 Plan, are as follows:
Provide specific recommendations for developing new priority greenway segments and facilities;

Explore potential connections that can be derived from linking the old greenway plan to the adopted pedestrian, bicycle, and parks & recreation plans; and

Expand on recent planning efforts for the Smith, Richland, and Sanford Creek corridors by identifying trail locations within their more broadly defined greenway corridors.
Successful greenway planning requires dedicated work with many diverse citizens and adjacent landowners, including those opposed to greenways or specific greenway projects. In addition, community leaders and citizens with expertise in planning, safety, security, environmental and liability issues work together to implement a successful greenway plan. Wake Forest maintains a strong partnership with staff, Greenways Advisory Board, landowners, and other professionals in order to address most issues and concerns. We will continue to strive for effective public involvement as we develop and manage the greenway system.

Priority Greenway Corridors
The greenway system recommendations of the Wake Forest Open Space and Greenways Plan are broken down into two primary phases for future development:
Phase 1 - Smith Creek and Dunn Creek Corridors – key north/south corridors that connect Wake Forest with the Neuse River.

Phase 2 - Richland Creek, Sanford Creek, and the NC 98 Bypass Corridors – trails to be constructed along the Richland Creek Corridor will enhance connectivity by providing access to parks, schools, and neighborhoods along the corridor. Constructing trails along the Sanford Creek Corridor will connect hundreds of students to Heritage High, Middle, and Elementary schools. The Town's Pedestrian Plan lists the NC 98 Bypass Corridor as the top priority greenway corridor. This would create an east/west connection for economic and transportation objectives.
To learn more about Wake Forest's priority preferences for Dunn, Smith, Richland, and Sanford Creek Corridors, click here.

Land Dedication
If you are interested in granting the Town of Wake Forest a conservation/greenway easement, please contact Candace R. Davis at 919-435-9513.
You may qualify for federal income tax deductions or state income tax deductions or credits if you voluntarily grant a conservation/greenway easement to the Town as a charitable donation and satisfy any other applicable requirements, such as obtaining an appraisal for the donation.
Please note, this information does not constitute tax advice to you, nor is it intended to be written or relied upon for the purposes of avoiding penalties under the Internal Revenue Code of 1986, as amended, or any other tax laws. If you have further questions about tax impacts, please contact an independent tax advisor.