Brent Drendall named APWA-NC Fleet Manager of the Year
Monday, October 18, 2021 - 2:55pm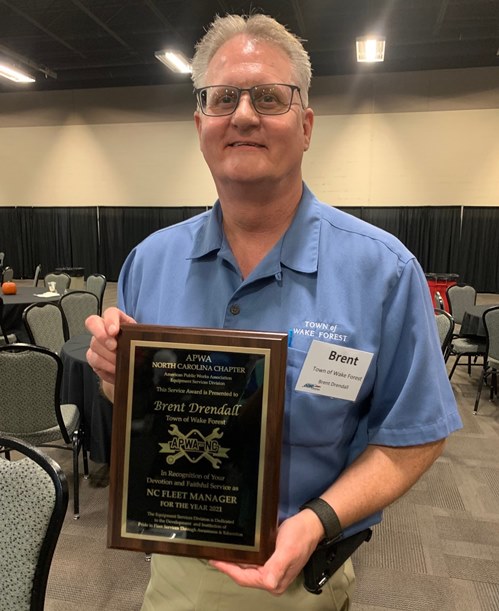 Fleet Manager Brent Drendall was recently named the Fleet Manager of the Year by the American Public Works Association of North Carolina (APWA-NC). The award recognizes the outstanding career service achievements of public fleet management professionals with a primary recognition of exceptional leadership and management.
In his role as Wake Forest's Fleet Manager, Drendall is responsible for managing and directing the operations of the Town's Fleet Services Division which consists of 450-plus assets.
He was recognized by the APWA because of his honesty, dependability and commitment to training, as well as his proactive attitude towards solving problems and "holistic approach" to updating and managing the Town's maintenance operations
Drendall was also recognized for researching new technologies and developing processes to improve the efficiencies and safety of Town employees – particularly during COVID.
"Brent is a stellar Fleet Manager and leader," said Public Works Director Magda Holloway. "We were pleased to nominate him for Fleet Manager of the Year and are thrilled that he was selected. There is certainly no one more deserving."