Fireworks Spectacular

Fireworks Spectacular
Saturday, July 3
Live-Streamed & In-Person
Gates Open - 7:30 pm pm
Fireworks Show - 9:30 pm
The Town of Wake Forest is pleased to announce that the July 3 Fireworks Spectacular will be open for in-person viewing. The fireworks show will also be live-streamed on Facebook.
Free and open to the public, this popular community event will take place inside Husky Stadium on the campus of Heritage High School, 1150 Forestville Road. Gates will open at 7:30 p.m. and the fireworks show will begin at approximately 9:30 p.m.
If you can't attend in-person, the Town will livestream the fireworks show on Facebook.
Fireworks Pre-Show on Facebook
Due to limited planning time, the Town will not offer concessions or live entertainment as part of this year's fireworks festivities.
Instead, at 9 p.m. the Town will share on its Facebook page, website and WFTV 10, a Fireworks Spectacular Pre-Show hosted by Talbot the Town Crier. Featuring Uncle Sam, Lady Liberty and the Board of Commissioners, the video will include a pre-recorded performance by the Band of Oz and an installment of "Kids Say the Cutest Things about the 4th of July."
The Town will then livestream the fireworks show at Heritage High School via Facebook before posting the full Band of Oz concert.


On-Site Spectators
Area residents are invited to bring lawn chairs and blankets and enjoy the fireworks show on the Husky Stadium football field or on one of the designated viewing areas on the Heritage High School campus. Spectators may also sit on the home side stadium bleachers.


Prohibited Items
Picnic baskets and/or coolers will be allowed on the school campus, but alcoholic beverages, smoking, glass and pets are strictly prohibited. In addition, no bicycles, skateboards or scooters are allowed inside the stadium, and no chairs or blankets will be permitted on the stadium track. No stakes are allowed in the turf in any of the viewing areas.


Sensory Sensitivities
Individuals with sensory sensitivities can check out sensory support items, including noise canceling headphones, weighted blankets and fidgets, at the Wake Forest Information Tent located inside Husky Stadium. Anyone wishing to obtain one or more of these items will be required to provide a photo ID which will be returned upon checking the items back in. For more information, email Specialized Recreation Specialist Kelly Schurtz.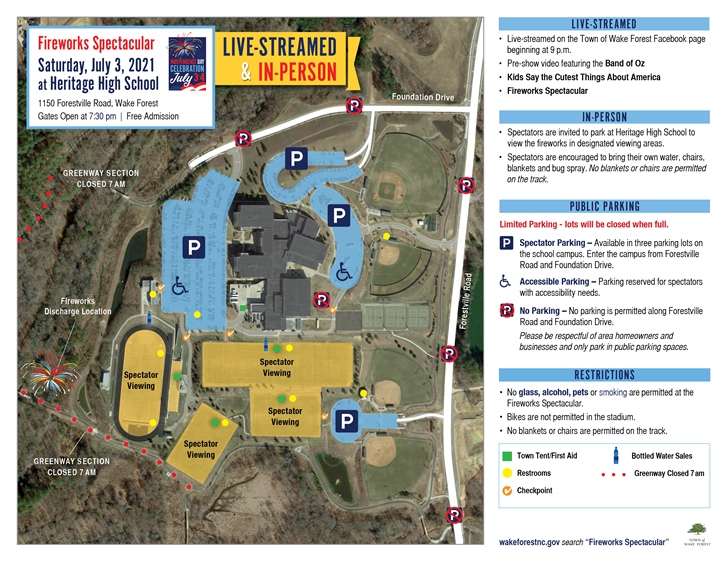 Parking
Handicap parking (by identification only) and regular parking will be available in designated areas on the school campus. Parking is prohibited along Forestville Road and Foundation Drive. Some parking lots in the area may appear to be public, when in fact they are private. Read all signage in the lot to determine what type of lot you are using. Private lots are intended for business patrons only. Since parking may be limited, area residents are encouraged to make plans with family members and friends to carpool to Heritage High School.


Motorists
Due to the popularity of the Fireworks Spectacular, motorists should expect delays along all roads in the vicinity of Heritage High School, especially Rogers Road, Forestville Road and Heritage Lake Road. Anyone not planning to attend the Fireworks Spectacular is encouraged to avoid the area and choose an alternate route.


Event Map
Click on the event map (shown right) to view important points of interest at this year's Fireworks Spectacular, including parking, restrooms and more. If you are planning on using one of the greenways to access Husky Stadium, keep in mind that there are no light poles along the route. Please bring a flashlight or use your phone to illuminate the path on your way back home.