Wall Calendar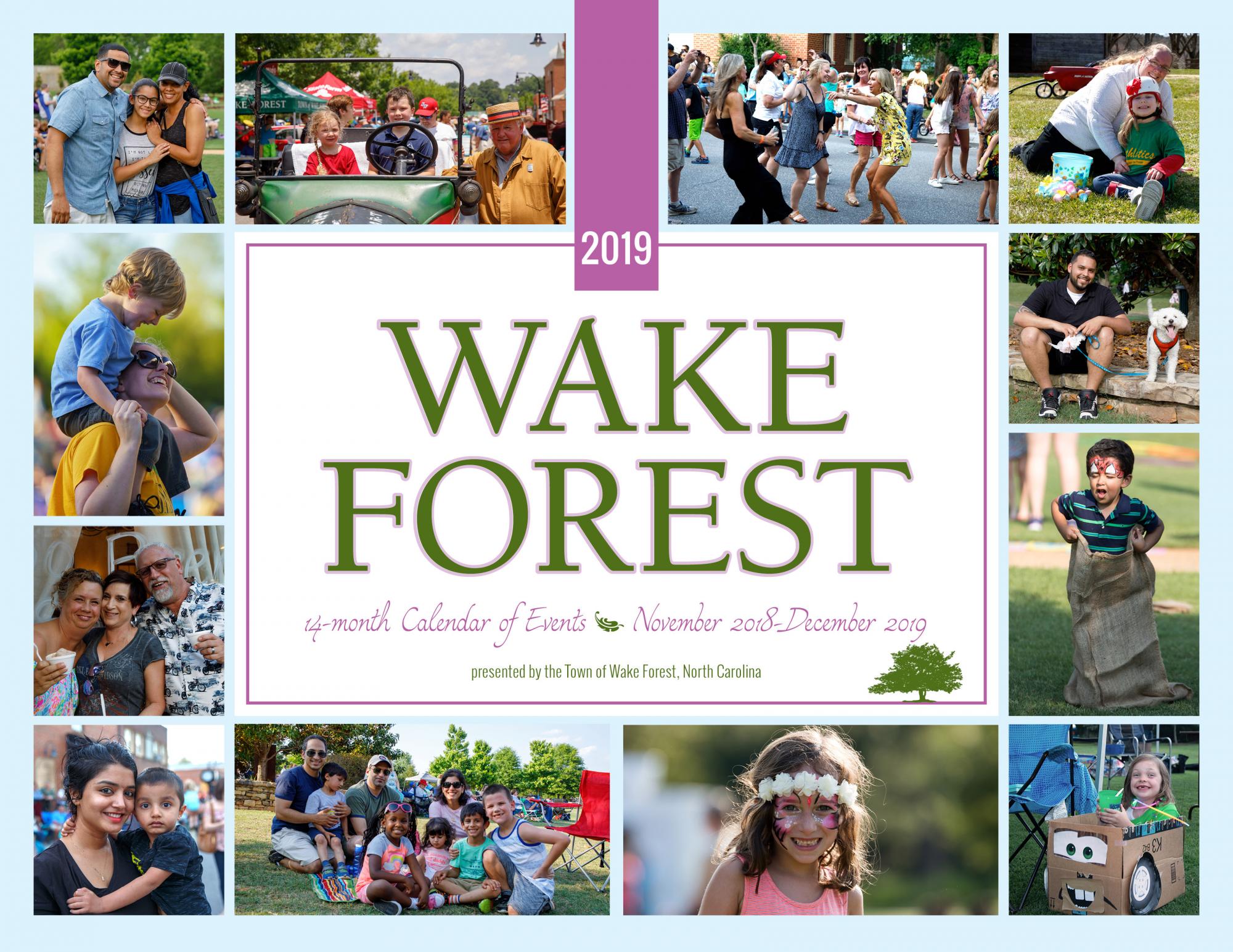 The Town of Wake Forest is making it easy for area residents to keep track of popular town events thanks to its 2018-19 wall calendar.
Now available at several area locations, the free calendar offers a comprehensive listing of town events scheduled between November 2017 and December 2018. The calendar also lists the various holidays the Town of Wake Forest will observe during that period.
The calendar is filled with dozens of photos featuring area residents enjoying local festivities ranging from the Mardi Gras Street Festival and Meet in the Street to the Halloween Spooktacular and Wake Forest Christmas Parade - and everything in between.
Town staff will distribute the calendars while they last at upcoming community events, but the free calendars are also available at the following Wake Forest locations:
Lowe's Foods, 932 Gateway Commons Circle

Northern Regional Center, 350 E. Holding Ave.

Northern Wake Senior Center, 235 E. Holding Ave.

Page 158 Books, 158 S. White St.

Wake Forest Area Chamber of Commerce, 350 S. White St.

Wake Forest Coffee Company, 156 S. White St.

Wake Forest Historical Museum, 414 N. Main St.

Wake Forest Renaissance Centre, 405 S. Brooks St.

Wake Forest Town Hall, 301 S. Brooks St.
The Wake Forest Wall Calendar aligns with several objectives outlined in Goal 2 of the Wake Forest Strategic Plan: Enhance and Promote a Safe and Connected Community, including Objective C: Ensure citizens are well-informed about community activities; Objective D: Build citizen participation in the community; and Objective E: Enhance the sense of connection of all neighborhoods to the town.