Wake Forest Christmas Parade
2019 Wake Forest Christmas Parade
Saturday, Dec. 14 ~ 1 pm
Downtown Wake Forest
Area residents are invited to experience the sights and sounds of the holiday season at the 2019 Wake Forest Christmas Parade. Sponsored by PowerSecure and presented by Wake Forest Downtown, Inc., this year's parade is scheduled for Saturday, Dec. 14, at 1 p.m. and will take place rain or shine.
Widely considered one of our area's most popular holiday spectacles, Wake Forest's annual Christmas parade features over 100 entries, including colorful floats, area high school marching bands, local businesses, churches, schools and civic groups, and - of course - Santa Claus.
Thank you to our 2019 Sponsors:
Grand Sponsor: Traditions at Wake Forest
Santa Float Sponsor: Capital Chevrolet
Grand Marshal Float Sponsor: Fidelity Bank
Gold Sponsors: 27587 Magazine; Bartlett Tree Experts; Brookdale Wake Forest; Destiny Dance Institute; Gladwell Orthodontics; North State Bank; Shaw RV; Ted Wilder, State Farm Insurance; The Forks Cafeteria; Wake Forest Academy of Fine Arts; Wake Forest Historic Preservation Commission; Wake Forest Mustangs; Wesley Wilder, State Farm Insurance; and Westgate Auto Group.
2019 Christmas Parade Application
Parade Route
The procession begins at the intersection of Elm Avenue and South White Street and continues north along South White Street before turning east onto Wait Avenue. It then turns south onto South Brooks Street before turning left at the Elm Avenue intersection. The parade ends at the Taylor Street intersection.

Food
While you're here, you're invited to visit the variety of outstanding food and beverage establishments in downtown Wake Forest.
Downtown restaurants include Black & White Coffee Roasters; Bodega Tapas, Wine & Rum; The Burger Shop; Domino's Pizza; Hardee's; Las Margaritas; Lumpy's Ice Cream; Over The Falls; Pizza Amore; Shorty's Famous Hot Dogs; Sugar Magnolia Café; The Forks Cafeteria; The Lemon Tree; Tonic - Bar and Social Club; Unwined on White; Wake Forest Coffee Co; and White Street Brewing Company.

Road Closures
Several street closures will take effect Saturday morning in the downtown area prior to the parade.
At approximately 10 am, the following roads will be closed:
East Holding Avenue, from South Main Street to South Franklin Street;

South White Street, from East Holding Avenue to Elm Avenue;

Elm Avenue, from South Franklin Street to South White Street;

Taylor Street, from Elm Avenue to Wait Avenue.

South Brooks Street, from Elm Avenue to East Holding Avenue
At approximately noon, these roads will be shut down:
South White Street, from Elm Avenue to East Roosevelt Avenue;

Wait Avenue, from South White Street to South Brooks Street;

South Brooks Street, from Wait Avenue to Elm Avenue.

South Franklin Street Advisory
Starting at approximately 10 a.m., motorists traveling along the Dr. Calvin Jones Highway/NC 98 will not be permitted to turn onto South Franklin Street. In order to ensure a smooth flow of traffic, motorists will only be allowed to access South Franklin Street via Wait Avenue.

Wheelchair Viewing Area
The Christmas Parade will feature a designated viewing area for wheelchair-bound attendees. Located in front of the Wake Forest Town Hall, 301 S. Brooks St., this reserved area will be available on a first-come, first-served basis. Space will be limited, so guests are encouraged to arrive early. In addition, parties of more than four may be asked to separate and reunite after the parade.

Christmas Parade Map
View/Download our Christmas Parade map

Parking
Southeastern Baptist Theological Seminary has agreed to allow free parade parking in several campus lots.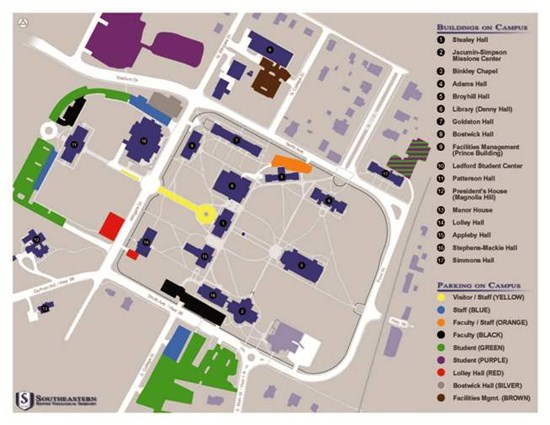 Click the image above to view permitted parking in the following areas:
green lots between South Main Street and South College Street

green lot behind Patterson Hall

red lot on Wingate Street

purple lots at North Avenue and Rock Spring Road
Parade parking signage will be posted at each of these locations.

Handicap Parking
Handicap-accessible parking will be available at The Forks Cafeteria, 339 S. Brooks St., and Wake Forest Town Hall, 301 S. Brooks St. Residents with a Disabled Person placard or license plate will be permitted to access these parking lots via Franklin Street and Elm Avenue.

Parade Rebroadcast
Beginning in mid-December, the Town of Wake Forest will rebroadcast the Christmas Parade daily on Wake Forest TV 10 throughout the remainder of December at 7 a.m., 1 p.m. and 6 p.m.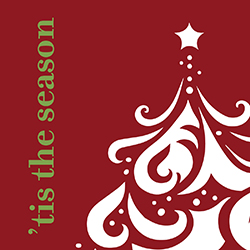 Christmas in Wake Forest App
Complete information about town-sponsored holiday events is provided through the "Holiday Events" function on the Town of Wake Forest app. Download the app and utilize the "Holiday Events" function for instant access to the Lighting of Wake Forest (Dec. 6); the Wake Forest Christmas Parade (Dec. 14) and more! IPhone, iPod Touch, iPad, and Android users can download the app by searching for "Town of Wake Forest" on iTunes, in the iPhone app store, or in Google Play or by scanning the appropriate QR code provided at www.wakeforestnc.gov/app.aspx.

Contact Information
For more information, contact Downtown Development Program Assistant Lynnette Beadle at 919-435-9416.

E-Notifier
To receive notifications concerning special events in Wake Forest, sign up for E-Notifier.